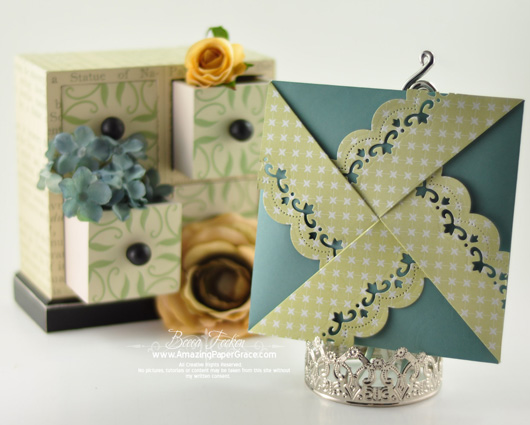 Hi there blog friends, conquering another item I've had on the side of my desk for months.  Are your ready to do more scoring and folding?  Well then, I have another tutorial for you!  This one will allow you to make a Decorative Border Folded Envelope to accommodate a 5.5″ x 5.5″ card.  There are two options for folding and many different options for embellishing – all of them will give you a different look.   On the sample above I've used Spellbinders™ Classic Edges One and Spellbinders™ Classic Decorative Inserts Two.
For the next sample I used a Martha Stewart Corner Punch and a Martha Stewart Border Punch, along with a rolled rose, pearls and seam binding.
For the last sample I used a Martha Stewart Border Punch, Satin Ribbon a button and a brad.
Here's the video to show you how:

I love this envelope – so easy and so pretty!!  I hope you'll give it a try.  See you soon!