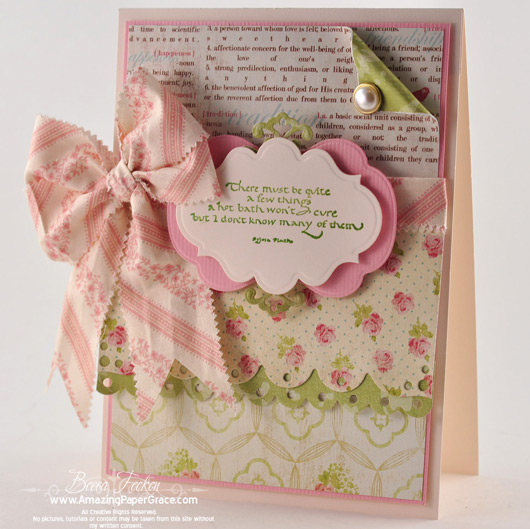 Hi there blog friends!!  I'm in the middle of making a gift for a friend and I found the perfect sentiment – it's written in girl code!!  First of all, suppress your instinct to giggle when I show it.  Who else can you give this to but a sweet girlfriend, lol?  I guarantee you — girls.get.this!!  Give this to a dude???  Check your watch – within 30 seconds he'll be asking if he stinks.

Oh my goodness, this is a fabulous sentiment from Quietfire Design and when Suzanne revealed it to the Design Team, we bantered back and forth how true it was.  Of course the shower is my ultimate comfort diversion because it's peaceful, I can think and relax.  When I'm upset – you'll find me in the shower . . . hungry – there I am in the shower . . . anxious – I'm in the shower . . . mad – shower, here I come . . . happy – woohoo, in the shower!!  The sentiment is called There Must Be Quite A Few Things and how true it is!!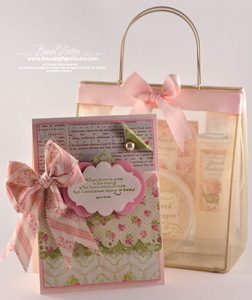 I created a small medallion using Spellbinders Labels Fourteen, Parisian Accents and Labels Twenty.  For the cross panel on my card I used Classic Scalloped Border Petites and Big Scalloped Border Petites.  This scrumptious paper is so fun and shabby feeling – I thought it would work out perfectly for a girl card – it's called Flea Market by Colorbok and I think I'll need to get another pad – it's chock full of my favorite colors.

I paired it up with some bath/shower accessories for my friend.  In fact I have a couple of other small gifts I need to make so I think I'll stick with the bath theme!

I have quick Becca Bit with some ribbon tips:
Thanks so much for stopping by!! I hope you'll come back tomorrow – We're having a JustRite Stampers blog hop with some very special guests!!