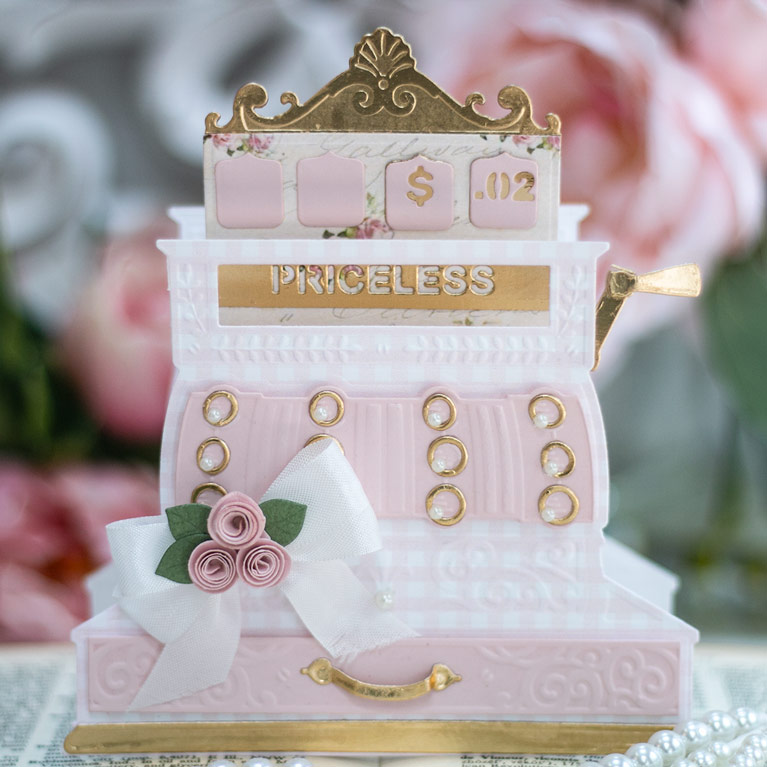 Cha ching!!  Did I get your attention?  You know what today is right?  Yep, time for me to introduce a new Die of the Month, and this one is priceless!   Have a look at the Amazing Paper Grace September 2021 Die of the Month – 3D Vignette Vintage Cash Register designed for Spellbinders.  I've never ever seen a cash register die before, so I thought I'd design one!  Imagine the possibilities – gift card caddy, a card to hold cash bills, and just a cute way to tell someone how valuable they are to you.
Inspiration for the 3D Vignette Vintage Cash Register
Remember the 3D Vignette Typewriter?  I was looking at that one day and trying to figure out if there was something similar I could design and immediately a cash register came to mind.  It assembles just like the Vignette Typewriter but has all the cute embellishments, markings, and sentiments that make it a showpiece.



Of course, it folds flat for mailing.  Here I simply used a catalog envelope.
What's Inside the 3D Vignette Vintage Cash Register
Magnificent detail and embellishments galore are what come in this set!  The pure detail built in to the cash register make it charming, quaint, and unique.  I made sure to design it so that the drawer can be cut out to make it a true interactive card.  Other than lots of options and sentiments, it's just plain cute.  I love giving gift cards and this is the perfect way to send a message plus a gift card or cash.
This is an easy make and I have a video here that shows you the best way to assemble . . .
I hope you liked the video that I created for Spellbinders – don't forget, I have my own Youtube Channel – Be sure to Subscribe HERE.
More Inspiration for 3D Vignette Vintage Cash Register



It was so easy to add the Cash Register to a card front.




My favorite make was made delving into my sweet design paper.  I made two opposites – one using a romantic floral and the second using my "go-to" gingham.
Don't forget to embellish with flowers and a small bow!
Coming Up
Do you love making boxes, paper flowers, or using your dies in unexpected ways?  Then you need to stop by and visit us at the Amazing Paper Grace Creative Encouragement Facebook Group    We post over 10 new tutorials each month showing you creative new ways to use the dies as well as tutorials on flower making.
The Creative Team always loves to show you their take on the new Die of the Month.  We'll be back on September 7, 2021, for more inspiration with September 2021 3D Vignette Vintage Cash Register.


Just some news friends, this month I did my first Facebook Live.  I know, can you believe it?  It has taken me two years to get up my nerve.  It was a bit of a hot mess with technology, but I'm proud that I made it through.  If you are a reader here I'd appreciate knowing if you watch Facebook Lives (no harm if you don't) also what would you like for me to do on my next live?  Would you tune in regularly if I made time every week or every other week?  You peeps are so important to me and I'm trying to find a way to keep up the inspiration – talk to me!