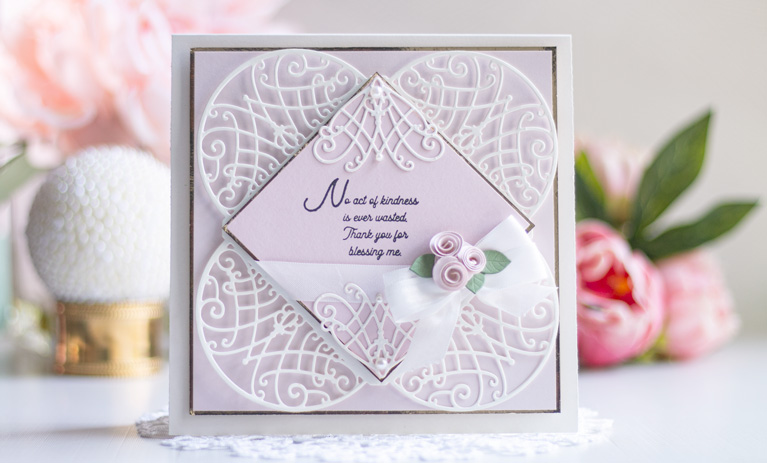 Happy August dear friends!  As usual, I'm excited because today we kick off a totally new Die of the Month!  August is our first hint that something other than a heatwave is coming – isn't it okay to dream of fall?  Well, I've dreamed up a breezy die that can be used in so many different ways.  Have a look at the Amazing Paper Grace August 2021 Die of the Month – Lattice Petal Foldover designed for Spellbinders.  It is truly graceful and lovely and I'm excited to tell you all about it!
Inspiration for the Lattice Petal Foldover
I'm such a fan of latticework and I felt that the bends and curves of a romantic latticework were right up our alley.  It's been bent and curved to a sultry openwork that is reminiscent of lace.  As always, there's more than one way to put it into service – it's brilliant as a card front but as you scroll through my post you'll be delighted to see that it also converts into a foldover notecard and makes a stunning box bottom or box top.
What's Inside the Lattice Petal Foldover
This die is complete with a shadow so that you can add that layer of color behind your lattice or have a solid-colored foldover envelope in your stash.  The lattice is like a pretty petticoat and is added by way of four domed lattice arches that you can add to your cut shadow.  This arrangement makes a square card or makes a square notecard but by cutting off two of the petals, you have a tall design!
I've played with this die extensively and I encourage you to watch this month's video so that you can see me demonstrate the best way to cut this die.
I hope you like the video tutorial. Please subscribe to the Amazing Paper Grace YouTube Channel!
More Inspiration for Lattice Petal Foldover





I love the textured look you achieve when crisscrossing two of the motifs!  It's delicate and lacey and gives you yet another option.  I can't wait to do this again except turning the design on point so that you are presented with a diamond instead of a square!





This is my very favorite part of the Lattice Petal Foldover – a notecard!!!!  I love sending notecards but don't want to write a book!!  This fits the bill because it is small enough for a sentence or two.  Make them up ahead of time and have them on hand so that you're ready to go!!





No design would be complete if you couldn't make a sweet little box from it.  It's the perfect thing to take a box from ordinary to extraordinary!  I simply created a box top the same size as the square motif that graces the top.  Then it was so easy to score the flaps and simply let them decorate the lid sides.
Coming Up
Do you love making boxes, paper flowers, or using your dies in unexpected ways?  Then you need to stop by and visit us at the Amazing Paper Grace Creative Encouragement Facebook Group. We have a lovely community with a library of over 100 diecutting and papercraft tutorials in the Guides tab.  I hope to see you there! 

The Creative Team always loves to show you their take on the new Die of the Month.  Be sure to visit our Blog Hop for more inspiration with August 2021 Lattice Petal Foldover.


Sweet friends, I'm still unpacking!  I guess that 35 years in the same place makes one collect a little bit more than they thought.  Yes, packing and unpacking is not my favorite thing to do but I'm taking the opportunity to reminisce and purge.  It feels like I'm starting all over, but instead of being fearful, it feels like a lovely opportunity.  I'll keep you posted!