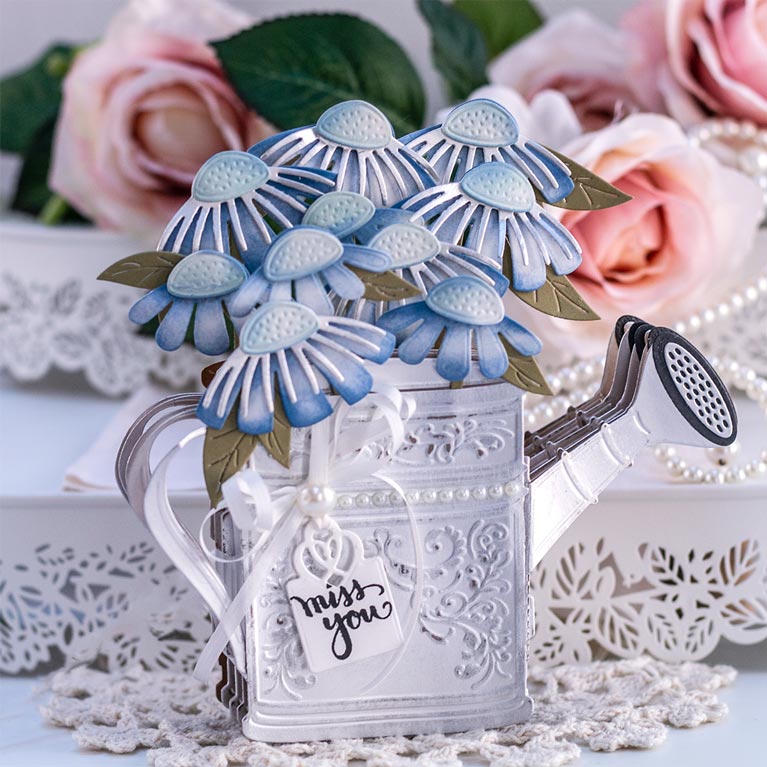 Even though it's April Fools Day, I absolutely relish the first day of the month – even in April.  Yes, spring is on the way and it's time to reveal the April 2022 Amazing Paper Grace Die of the Month!!   It's adorable! Please welcome the Pop-Up 3D Vignette Watering Can Bouquet!!  There are so many options when putting this one together, you'll want to be sure to look at the video this month so that you know all the sweet options.
Some links may be affiliate links, buying products through these links generates a commission at no cost to you.
The Inspiration for the 3D Vignette Watering Can Bouquet
This month's set comes with 15 dies.  Small secret, I love the shabby antiqueness of galvanized steel and the patina it can develop.  I've always felt that a watering can, while perfect for the garden, is also a showpiece.  And what better way to display it than with flowers inside!  The delicate embossing on the can be included or not included as they are inlays.  That detail adds delicious dimension.
Please be sure to check out the video – there are several ways to assemble this beauty and I'm showing you options! :-)
I create a video for each Die of the Month for Spellbinders but don't forget, I have my own Youtube Channel – Be sure to Subscribe HERE.
More Inspiration for the 3D Vignette Watering Can Bouquet
So this is unlike the other vignettes . . .  keep reading . . .




the slit for inserting the flowers is also perfect for inserting a notecard – have a look!!
Yes, this is the backside of the watering can.  How cute is that?  On the backside, the recipient finds out the occasion for sending this creation.  And, it all folds flat!!
Did you notice something different about this one?  Yes, the flowers can be tilted upside down.  One of my sweet friends told me they made the mistake of tilting them the other way but that it looked great.  I rather agree, so I created one with flipped flowers, it is so sweet!!
This is one of my favorite renditions because it is so easy and because it is a traditional card!  I took the delicately embossed watering cans (2 of them turned sideways) and used them for the base of my slimline card.  These flowers are so easy to stack up and are so sweet on the front of a card.  In this case I paired them with the Fluted Slimline Die as a border and the Fluted Circle Die in the center.  I stacked up 1 of the small flowers and one of the large flowers and added leaves.  I adore this easy way to honor the traditional flat card and this one is crazy easy.
So there you have it!  Spring is Sprung and I'm welcoming spring with sweet cards to sent to a hand full of friends who get a bouquet with a note on the back with sweet versions of the Pop Up 3D Vignette Watering Can!
Amazing Paper Grace News
I hope you are inspired by the Amazing Paper Grace April 2022 Die of the Month!
Feel free to reach out to me!  Here's where you can find me.
Let's Chat                    – Follow Becca Feeken on Facebook!
See What's Up            – Follow Becca Feeken on Instagram!
Kick Back and Learn –  Follow Becca Feeken on YouTube!
Get Inspired               –  Amazing Paper Grace CREATES on Instagram

Thanks so much for stopping by!!  Leave a note to let me know what you are working on this month!  Are you stamping full steam ahead?  Are you Die Cutting your heart out?  What's up with you?