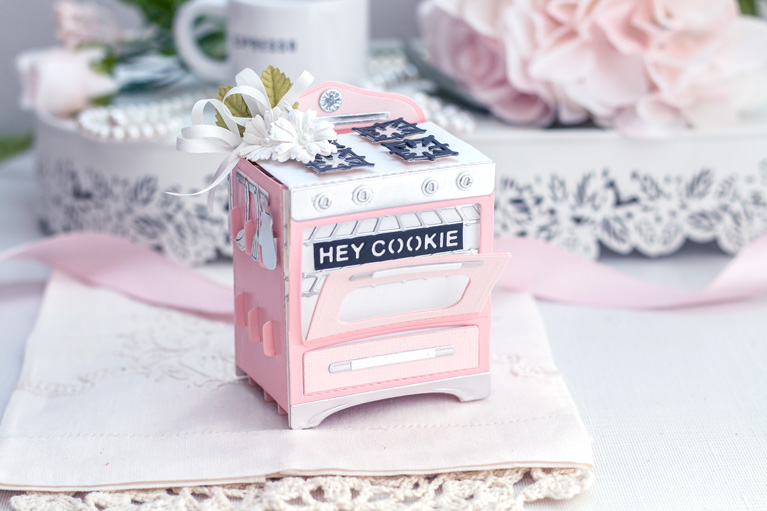 Good morning sweet friends!  Are you ever in for a treat with the Amazing Paper Grace May 2022 Die of the Month!  It's an oven – inspired by sweet pictures of cool colored retro ovens and finally dreamed into a 3D Vignette called the What's Bakin' Oven!  My goodness, this is been in the making for almost a year, it was so hard to wait for release day, but it is here.  Today I'm showing the pink colorway and it has been made up in other colors as well.  You'll just have to see the video where I show you how to attach a cardlet to the back so that you can communicate a sweet sentiment to the recipient.
Some links may be affiliate links, buying products through these links generates a commission at no cost to you.
The Inspiration for the 3D Vignette What's Bakin' Oven
This month's set comes with 14 dies.  When the world is overflowing with so many handmade cards, I'm mindful of the cute presentation made by the 3D Vignettes.  They are easy to put together but can be represented as a flat card or as a 3D showpiece that people will not put away.  The What's Bakin' Oven folds flat!!  That allows you to hang a little cardlet off of the back. You can fill the interior with photographs or small cardlets or stamped or handwritten messages.  If you give it in person or send it in a box, just imagine what could go inside – cookies, photographs of the new baby, recipes – you get my drift :-)
Please be sure to check out the 3D Vignette card making video tutorial! I'll show you how to incorporate a mini card for your recipient, into the design :-)
I create a video for each Die of the Month for Spellbinders but don't forget, I have my own Youtube Channel – Be sure to Subscribe HERE.
More Inspiration for the 3D Vignette What's Bakin' Oven
The allure to this type of card is that is draws the attention, people wonder how it's put together and moreover, they wonder what's inside or attached.




The blessing is that if you don't want to go all out 3D, it's the perfect charming ingredient for the front of your card.  In fact, the oven door opens and it would make a lovely money holder, with the bills tucked into the door.



How cute is it as a shaped card?  I think it's a great option as a tag.



Yes, this is the backside of the watering can.  How cute is that?  On the backside, the recipient finds out the occasion for sending this creation.  And, it all folds flat!!



On all of my versions, I wanted a feminine edge to a retro stove so all throughout you can see I popped little flowers onto the design and they are right at home. How cute is that?!?  Keep an eye out for different versions – which is your favorite?
Amazing Paper Grace News
Be sure to stop by on Wednesday, May 4th for our Blog Hop where the Amazing Paper Grace Creative Team will give you some unique ideas on all of the different ways you can possibly assemble the What's Bakin' Oven!
That's it for me today!  I hope you are inspired by the Amazing Paper Grace May 2022 Die of the Month – Pop up 3D Vignette What's Bakin' Oven!
See what's bakin' on social:
Let's Chat                    – Follow Becca Feeken on Facebook!
See What's Up            – Follow Becca Feeken on Instagram!
Kick Back and Learn –  Follow Becca Feeken on YouTube!
Get Inspired               –  Amazing Paper Grace CREATES on Instagram


Thank you blog readers for your many lovely comments and for taking your time to stop by.  I'm sharing lots of photos on my personal Instagram, so I hope you will join me there as well.  Welcome to new readers, I appreciate you and welcome!