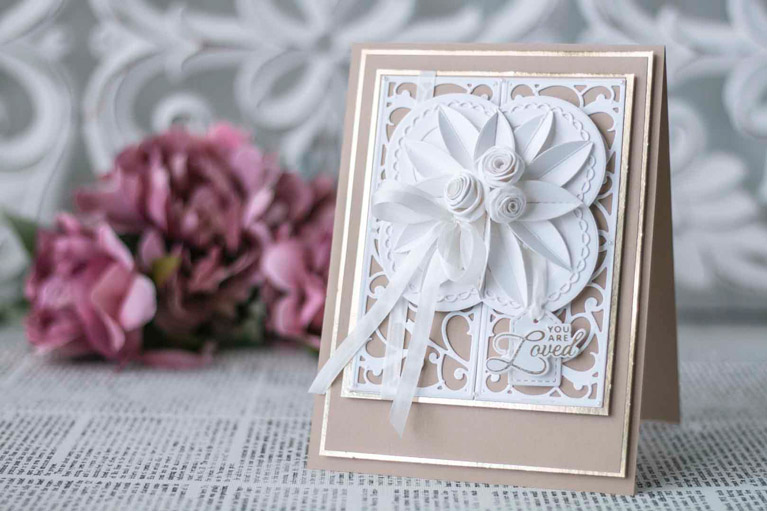 I'm no April Fool, but I'm so happy to be moving into a new month.  If you are like me, you are bowled over with spring fever.  The only cure for that, my friend is more flowers.  This month I've dreamed up several options in a new Die of the Month created for Spellbinders.  Please welcome the Amazing Paper Grace April 2021 Die of the Month – Dahlia Dimensional Doily.  Dear A2 Card Lovers, this one is for you!  No, but seriously A7 Card Lovers, this one is for you too!
What's Inside the Dahlia Dimensional Doily Set
First of all, let me say that this is a mini-collection of options, all together in one set.  You can make three different cards from this one mini-collection.  First, you can make a card with the Dahlia Doily – you will definitely want to view the video below to see how the doily is assembled.  Second, you can make a card with the sweet rolled flowers (I'm over the moon about these little romantic flowers).  Lastly, third, you can make a card with the Folded Dahlia.  Oh, and by the way, the panel that is included this month, cut twice, makes the perfect A2 card base. You're welcome (wink!!)
Inspiration for Dahlia Dimensional Doily
As you might imagine, I keep a sketchbook of all the things I want. Let me just say upfront the I have wanted spiral flowers for more than two years and finally, I have them.  In fact, I tested a lot of spiral flowers (ones with jagged edges, ones with scalloped edges) and the home of my heart is in this flower because it's soooooooo easy.  I did add a score line so that you could bend the edges over easily.  What a treasure these are!  Think about it – instead of a bow on a gift – rolled flowers!  You control the overall size by how tightly you wind them.  As a result, you get flowers what every size you want! You can even get itty bitty ones by clipping off some of the tail, giving you less to wind.  Yes, I know, I'm gushing over these….
Today on the inspiration video, see how the dies go together.  Learn what to cut and how to assemble the Dahlia Doily.  Oh, and you'll also see how easy it is to curl the sweet romantic spiral flowers.
I hope you liked the video that I created for Spellbinders – don't forget, I have my own Youtube Channel – Be sure to Subscribe HERE.
More Dahlia Dimensional Doily Samples
This die set makes a unique rounded motif with four interacting pieces that create four leaves of a Dahlia.  If you are not the type that likes anything interactive, no worries – just make a flower from the petal die.  I love all of the possibilities and dimension that this combination of dies provides.  There is something for every kind of crafter here…



I loved using the panels to create an A2-sized gatefold card.  On the inside, I simply added a layer of vellum over top of the die cuts for a dreamy look.



Finally, the month would not be complete without a box to top it all off.  The filigree panel makes this the perfect size for a gift box or a box to give A2-sized cards in.  All in all, the set includes so many options to make a variety of cards and gifts!  Sweeties, please have fun with this one!
Coming Up
Do you love making boxes, paper flowers, or using your dies in unexpected ways?  Then you need to stop by and visit us at the Amazing Paper Grace Creative Encouragement Facebook Group   We post over 10 new tutorials each month showing you creative new ways to use the dies as well as tutorials on flower making.
The Creative Team always loves to show you their take on the new Die of the Month.  We'll be back on April 9, 2021, for more inspiration with April 2021 Dahlia Dimensional Doily.


Hi friends!  As always you find me covered up and thinking of new designs.  Life is busy but I'm blessed for it to be so.  I am my best self when I'm overwhelmed with ideas and that's exactly where I am these days.  Please forgive me if I'm hard to find, but I am really here, behind the scenes creating.  Leave me a note to let me know how you are managing – I really do read them.