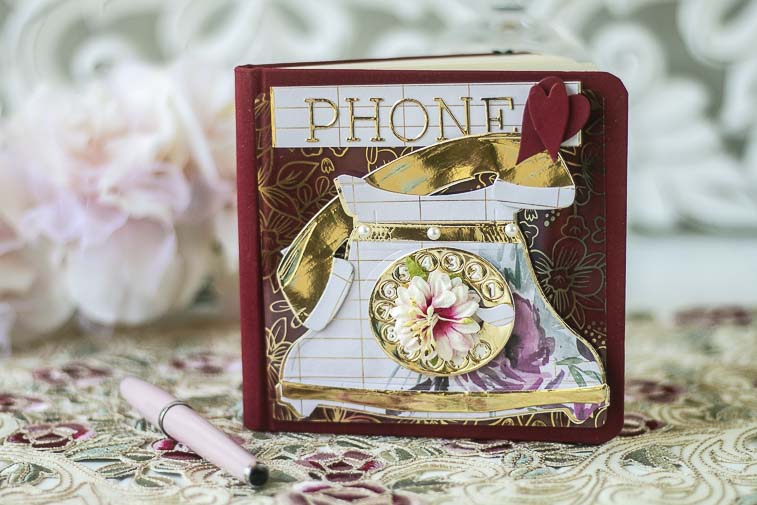 Hold the phone!!!  It has been an exciting week for us all!!  We've been waiting with bated breath to announce our Creative Team!  Many are waiting for their dies to arrive but two of our newest designers are joining in today.  Today we are sharing the Amazing Paper Grace Die of the Month for August 2020 Pop up 3D Vignette Telephone.  It's super cute and guaranteed to bring a smile!
Some links may be affiliate links, buying products through these links generates a commission at no cost to you.
If you missed our post about the new creative team, pop down to see the Creative Team Announcement on the blog.
3D Vignette Telephone Details
We've spent all month making funny phone jokes and puns!  Do you realize this little relic is something that most teenyboppers haven't seen in person?  Just as with the typewriter, the phone is an iconic part of our history and technology.  Ever evolving, this phone will always be a part of our coming of age.  During the month we played "I Spy" to peek into how folks were using this die and this is what we found:
A shaker card
A notepad holder
A mini 4-page scrapbook (which will hold Instax pictures)
A gift card holder
A card with multiple sentiments
A basket
We're sure there are more, but in the meantime, here is some additional inspiration to pique your creativity. Don't miss my designs in the introduction of the 3D Vignette Telephone post.

There are SIX dies included in the Telephone Set
My Project Today using 3D Vignette Telephone
My project today takes minutes.  For my project I decided to take one of the many sketch books I have and create a Phone Book.  Yes, even though I keep my phone contacts in my phone digitally, I love having a place (a backup) where I have manually written down numbers.  Plus I don't want every number in my phone – just the important ones.  In my manual phone book I'll put my favorite dry cleaner, some of my stores, etc.
To make, I simply die cut a phone and applied it to printed acetate.  I did it that way because I wanted the beauty of the linen book to shine through.  I put my die cut phone on the sketch book with foam adhesive.
Designer Tip:   When working with fabric and clear acetate, it's a-okay to use a line adhesive like ScorTape to adhere acetate to fabric.
Supplies:
Stamps:   None
Paper:  Paperlane (clear acetate)
Ink: None
Accessories:  Amazing Paper Grace August 2020 Die of the Month – Pop Up 3D Vignette Telephone