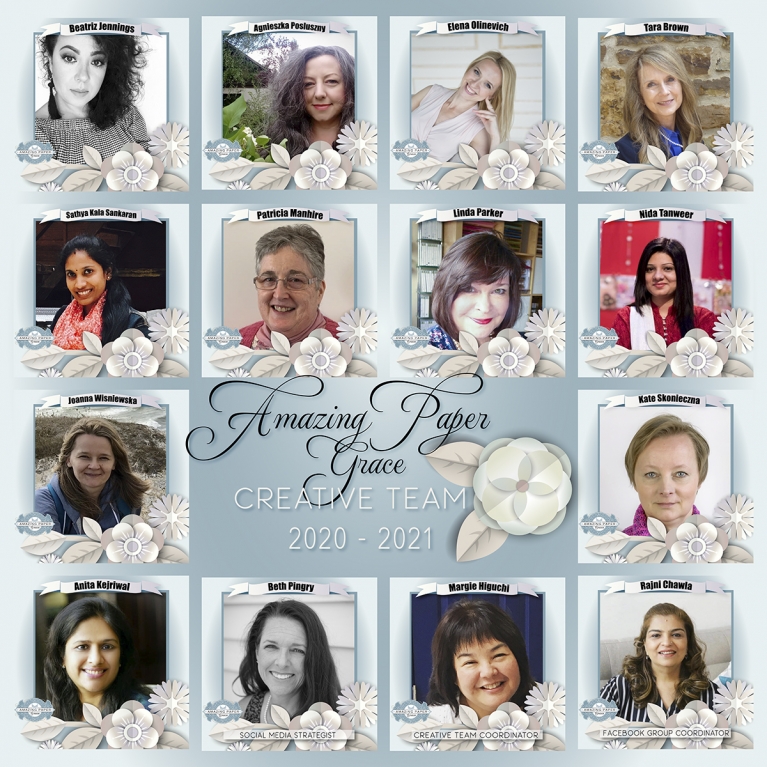 This lovely milestone has been a long time in the making for Amazing Paper Grace.  I'm beyond tickled to tell you that after a lengthy open design team call, we received a mailbox brimming with submissions.  In fact, so many that it took us extra time to examine them and research every one.  We've assembled an amazing team of artisans to dabble with Amazing Paper Grace products and bring you a new dimension of inspiration.  Please say hello and welcome the 2020 -2021 Amazing Paper Grace Creative Team.
No doubt you have seen these lovely artists out and about on the internet but we would appreciate it if you would subscribe to their blogs today.  Over the next couple of weeks they will be joining our hops to deliver even another dose of inspiration.  In fact, please come back on August 20th, we have a hop and some lovely projects to show.
A note of thanks goes to all those who made submissions.  If you didn't make it this time, please know it doesn't speak to your art and we hope you'll continue to try.  We were looking for very specific things.  In the meantime, please stick around and become part of our community!
Join us!  Find the Creative Team:
SHARING – Amazing Paper Grace Creative Encouragement Community on Facebook.
POSTING – Amazing Paper Grace Die of the Month page on Spellbinders —–> Upload so others can see your work!
TALKING – AmazingPaperGrace_Creates our new account on Instagram.  You ask there, we answer there.

Thank you so much for your kind words and support