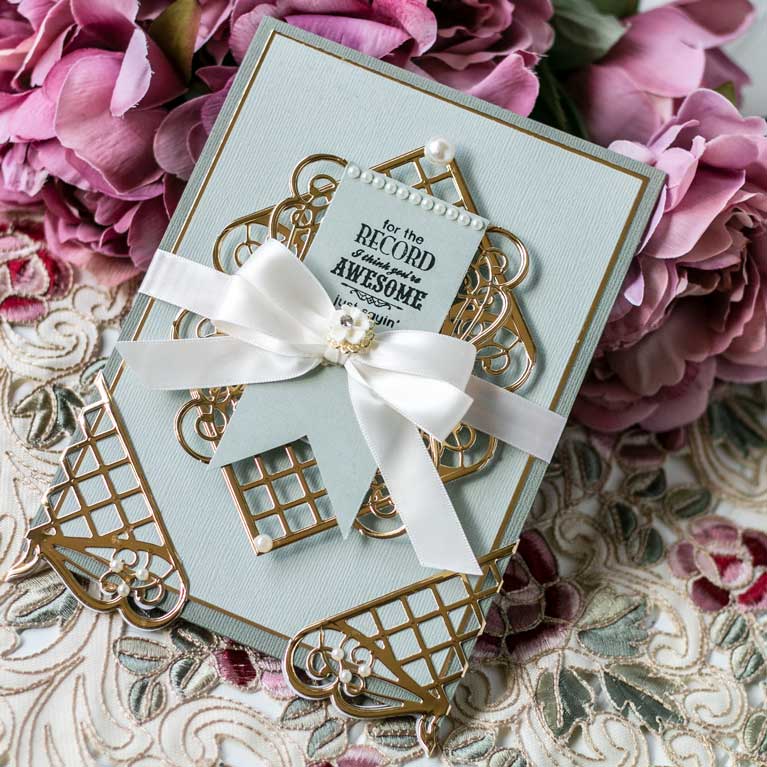 Every once in awhile a die comes along that gives you so many combinations that it's almost like a puzzle.  Today we are sharing the Amazing Paper Grace Die of the Month for September 2020 –  Lattice Quadrante.  The four pieces of pristine cut, pie-shaped lattice with decorative edges will have you twirling, twisting, and setting the pieces on end figuring out all the beautiful configurations you can make.
Some links may be affiliate links, buying products through these links generates a commission at no cost to you.
You can see all Amazing Paper Grace Dies at this link on the Spellbinders Website.
Who isn't a fan of lattice?  When creating I always hope for pairs of motifs so that I can cut a symmetrical design in one pass.  This die is symmetry on steroids!  So I've given you four identical motifs that function as inlays or can be used altogether with a rim to make a rounded central element.  The word quadrante comes from quads and is just the hint you need to know that there are four pie-shaped pieces in this set to create a configuration powerhouse.
Today, the creative team and I want to inspire you to think of different combinations using the Die of the Month, Lattice Quadrante.
It's truly like a puzzle!  Here's what we came up with.
Use all the motifs together in the rim for a large motif.
Alternate motifs in the rim for an alternating lattice design.
Cut each piece separately and use the pointed end as corners.
Make a tall card by stacking two of the motifs the tall way.
Make a pocket card by cutting two of the motifs side by side.
Set the die on point and cut a v-shaped peek a boo piece.
Use one motif alone.Are you getting the picture?  We can name so many more!
There are SEVEN dies included in the Lattice Quadrante Set
My Project Today using Lattice Quadrante
Squeal!!!!  I simply love the symmetrical motif folded in half!  I used the folded elements to add "feet" to my card.  I have to say that this is the only die I have that will make that happen.  For that reason, this floats right up to the top of my stash!!  Decoration doesn't get any easier.  Although this time around I glued together a motif for the center of the card, the feet are going to be lovely on my sentiment-centric cards.
Designer Tip:   Put the outside rim in place, face down and use washi tape liberally.  Center all four elements inside the rim to create a doily or large motif.  In short, you don't want to skimp on the washi tape on this die.

My second project is a bookmark and I can't tell you how happy this makes me – it's sooooo darn elegant.  These can be made in under five minutes.  Simply glue two of the quad motifs together along the outside straight edge, allow to dry thoroughly and slide over the corner of your page.



Stamps:   We Go Together – Papertrey Ink
Paper:  Coredinations
Ink: Versafine – Onyx Black
Accessories:  Amazing Paper Grace September 2020 Die of the Month – Lattice Quadrante