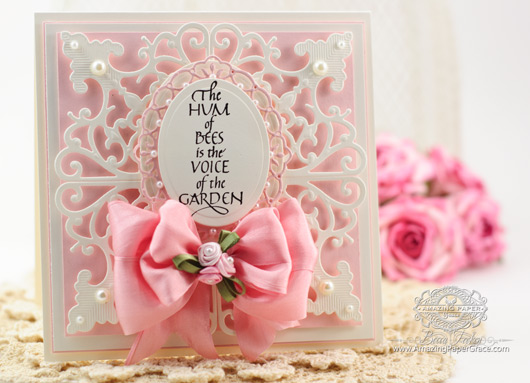 Greetings friends!  If I said the word "Spring" would you that help you understand where my mind has been?  Yes, you are probably there too, so ready for spring!!  Today I'm sharing a pastel card (big surprise there) that matches the kind of mood I'm in.  My post is short today, but this card is so very simple – no need for me to drone on.  The top layer is made using Spellbinders Classic Oval LG and the layer below that – delicate and pink is made using Spellbinders Wonderful Locket.  The final layer in all its frilly glory is four cuts of Spellbinders Antique Corner arranged so that the point of all four corners meets in the middle.  That's it!!
I'm using a sentiment from Quietfire Design from the Garden Delights set . . . so sweet!
Thanks so much for stopping by!  After a little over a week off (taking care of things at home), I'll have some more cards to show this week!