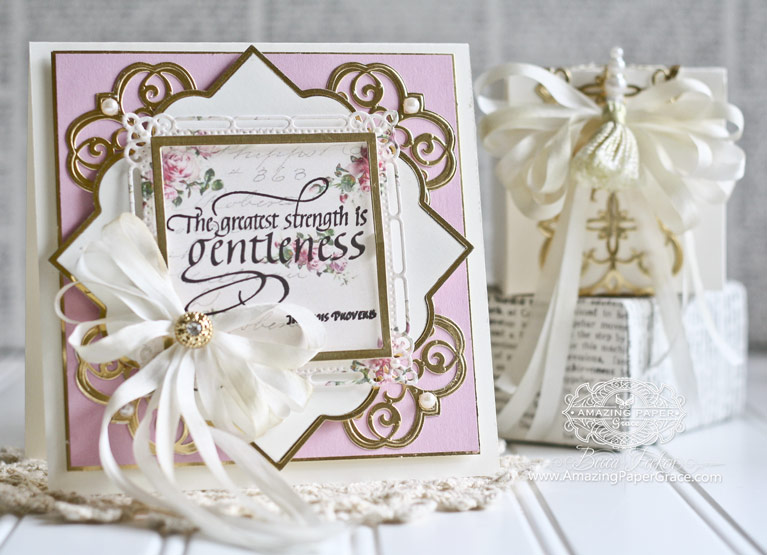 The greatest strength is Gentleness!  I love that thought and I have to repeat that to myself in times of doubt.  What a welcome new addition to my stash from Quietfire Design – The Greatest Strength is Gentleness.  I didn't waste a moment stamping this one up so that I'd have a sweet card with a soothing thought for my table.  Friends, givers that you are, I hope that every once in a while you take in the beauty of what you do and it sweetly graces your home.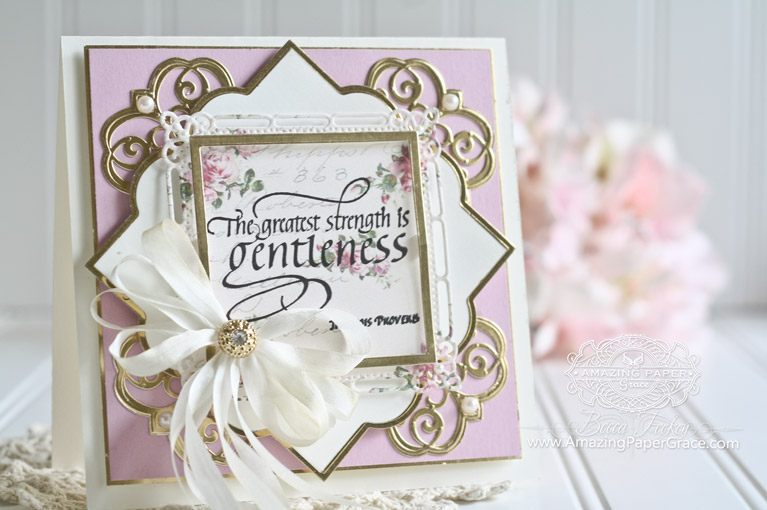 The 5 1/2″ x 5-1/2″ card is made using Spellbinders Mary Strip Border as the base.  On top of that I layered Spellbinders Labels Forty Nine tilted askew.  I finished up with Spellbinders Marvelous Squares and a small frame made with Spellbinders Classic Squares LG and Classic Squares SM. By the way, the border around Labels Forty Nine was done with the Minc Die Cut Border Technique I created – you can see the video HERE – it adds a wonderful polish to your cards!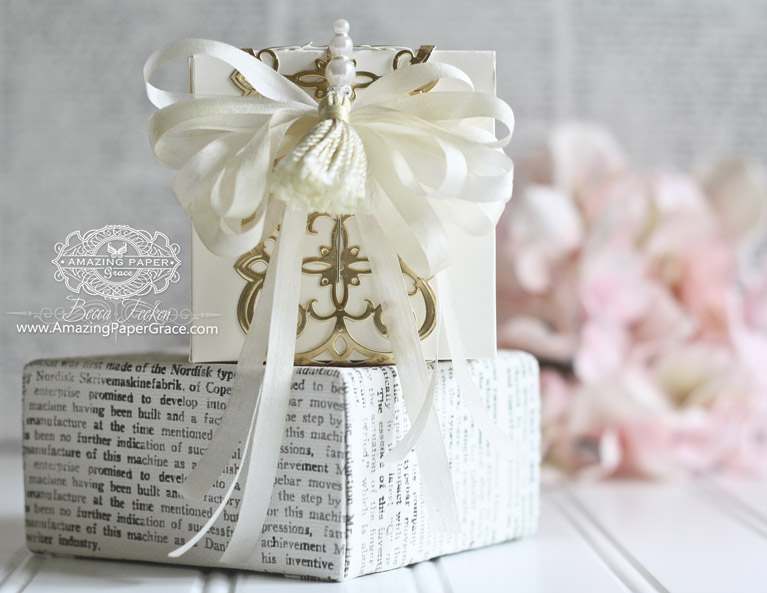 Along with the card today, I made a gift box.  Inside I put some scented potpourri so that when I walk by I catch a whiff of the fragrance :-)  The construction of this box takes much less time than the snipping and scoring I normally do.  It is made with a die called Spellbinders Contour Steel Rule Die – Giving Makes You Happy.  Two of each die cut are are needed to construct the box but both passes can be done at one time – cool!!  This die is large and fits the Spellbinders Platinum machine as well as other steel rule die cut machines on the market.  It makes a 3″ x 3″ x 3″ box with a flapped lid that tucks in to the front of the box.  I wanted the box to coordinate with the card so I wrapped it with the Mary Strip Border and used the border as part of the closure running my decorated pin through the loops.





Rubber Stamps: Quietfire Design – The Greatest Strength is Gentleness
Craft Paper:  Digital Paper – Iralamija Etsy Shop, Neenah Classic Crest Natural White – 80lb smooth, Papertrey Ink – Lavendar Moon, The Fine Touch Metallic Poster Board
Ink:  Versafine Onyx Black
Accessories:  Spellbinders Contour Steel Rule Die – Giving Makes You Happy, Spellbinders Mary Strip Border, Spellbinders Labels Forty Nine, Spellbinders Marvelous Squares, Spellbinders Classic Squares LG, Spellbinders Classic Squares SM, May Arts Silk Ribbon, Recollection Pearls


I'm putting finishing touches on a new gift item I've made.  I hinted about a hero you have at home that will be a welcome tool for your stash.  I can't wait to finish!  Hope you're having a fabulous day!