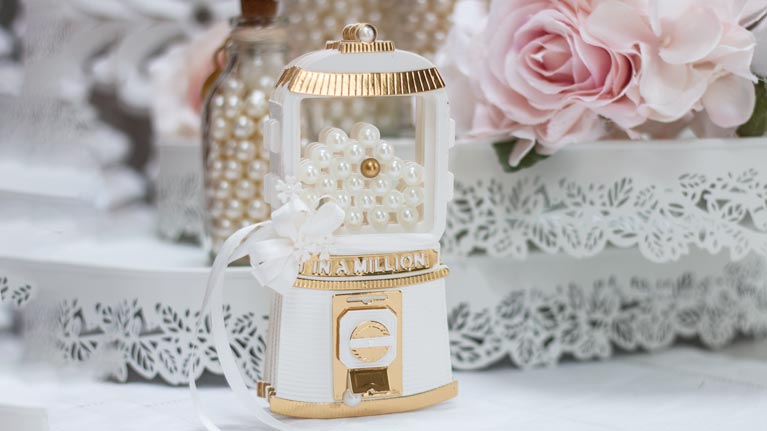 Sweet Readers, today is the beginning of September and that means, I have the pleasure of introducing a new Die of the Month today.  I'll warn you ahead of time that the offering this month is oh, so, playful and comes with a very special set of messages.  Here we go, it's a Bubble Gum Machine!  The Amazing Paper Grace September 2022 Die of the Month is called the Pop Up 3D Vignette Gumball Machine. I will tell you that when I was making samples, I had so many little ones vying for the results.  I had to hide the gumballs to keep them from disappearing.
Some links may be affiliate links, buying products through these links generates a commission at no cost to you.
Inspiration for Pop Up 3D Vignette Gumball Machine
This die set is simply going to make you smile.  I don't know how many gumball machines are still around, but it is absolutely iconic.  This one comes with three pun-filled messages that make it fun to make and something really unique to receive.  Whether is given as a card or as a treat with real gumballs, it's definitely one of a kind.



Done above as a gift box, it is chock-full of gumballs!!



Instead of doing iconic red, how about hot pink?



It plays out beautifully as a card front!
On this month's video, I show you step by step, how to construct the Gumball Machine – casual or elegant.
Crafting Ideas for the Gumball Machine
There are so many ways to craft this up and the sentiments simply drive home a cute message.  Here are some samples to inspire:



And remember, it folds flat so that it can go into an envelope :-)
And there you have it!!  Cute, right?  I hope you'll have lots of fun tinkering with the Amazing Paper Grace September 2022 Die of the Month is called the Pop Up 3D Vignette Gumball Machine.   If you are curious about what I've been up to lately in the design world, then you can check out my recent collection with Spellbinders HERE.
By the way, if you are curious about all things Amazing Paper Grace, you are officially invited to join our private Facebook Group Amazing Paper Grace – Creative Encouragement Facebook Group.  We have a library of tutorials and a lovely community and I hope you join us there!
Feel free to reach out to me!  Here's where you can find me.
Let's Chat                    – Follow Becca Feeken on Facebook!
See what's Up            – Follow Becca Feeken on Instagram!
Kick back and Learn –  Follow Becca Feeken on YouTube!
Get Inspired               –  Amazing Paper Grace CREATES on Instagram


Happy Fall y'all.  I think I might be early on that call but go with me.  I am savoring the promise of the coming season.  Today finds me happy, grateful and so loving life.  Find me somewhere and let me know how you are doing.  I'd love to hear!