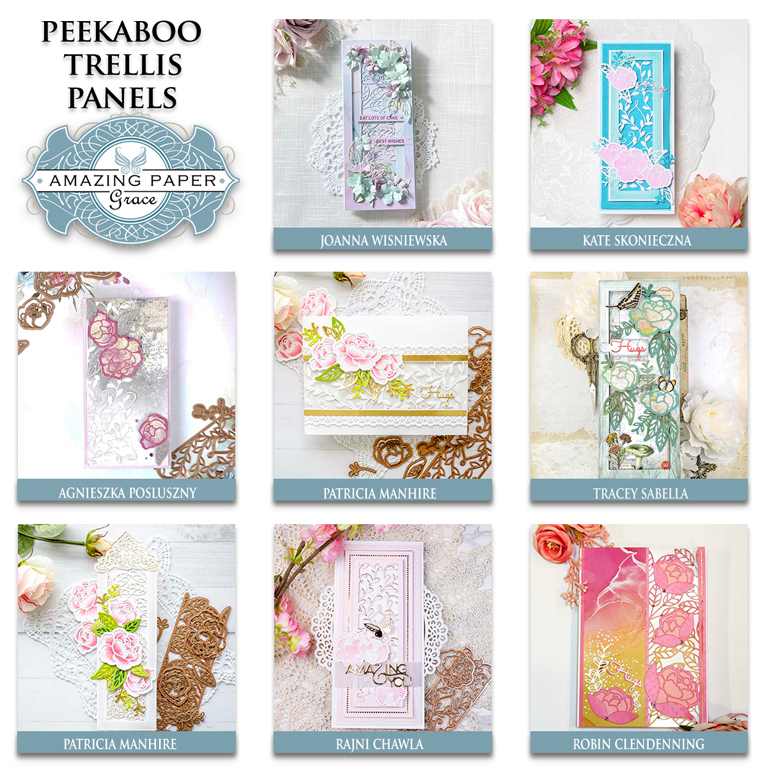 Hi friends, this month our inspiration brings you Peekaboo Trellis Panels.  I'm sharing a make from each member of our Creative Team and their take on how they would best showcase the die.  The die set features two romantic filigree inlaid panels and some decorative Roses.  For the past several years, every fall I program in roses and this is it.  As I said in my previous post, the ideas just kept rolling in with this die set – I love it when the inspiration pool is full.
Some links may be affiliate links, buying products through these links generates a commission at no cost to you.
Come along with me for a closer look at the Amazing Paper Grace August 2022 Die of the Month, Peekaboo Trellis Panels . . .
Peekaboo Trellis Panels Inspiration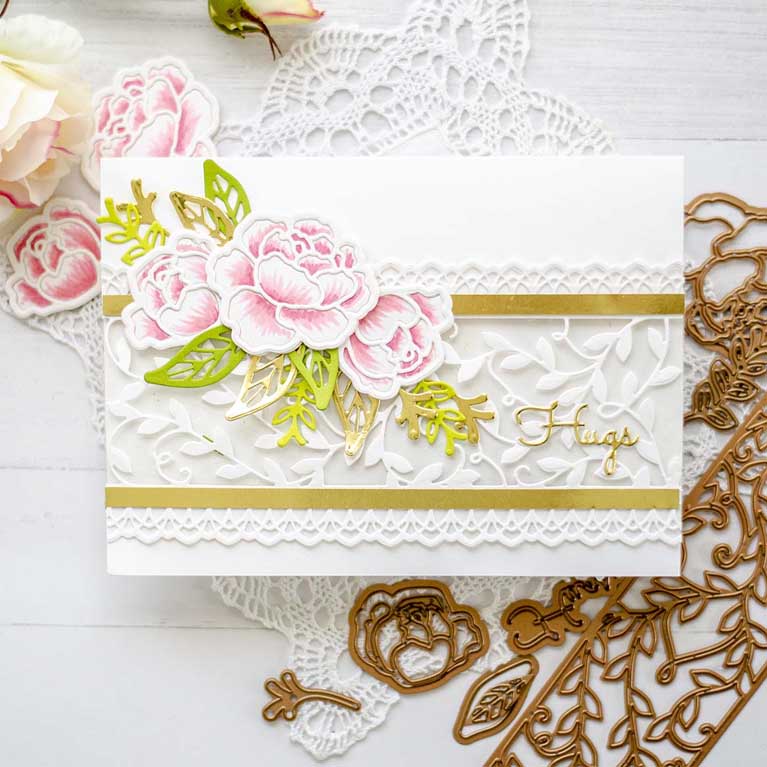 Patricia Manhire inspires us with a beautifully shaded rose and a side perspective card!  It's gorgeous and jaw-dropping, and you can do this too!!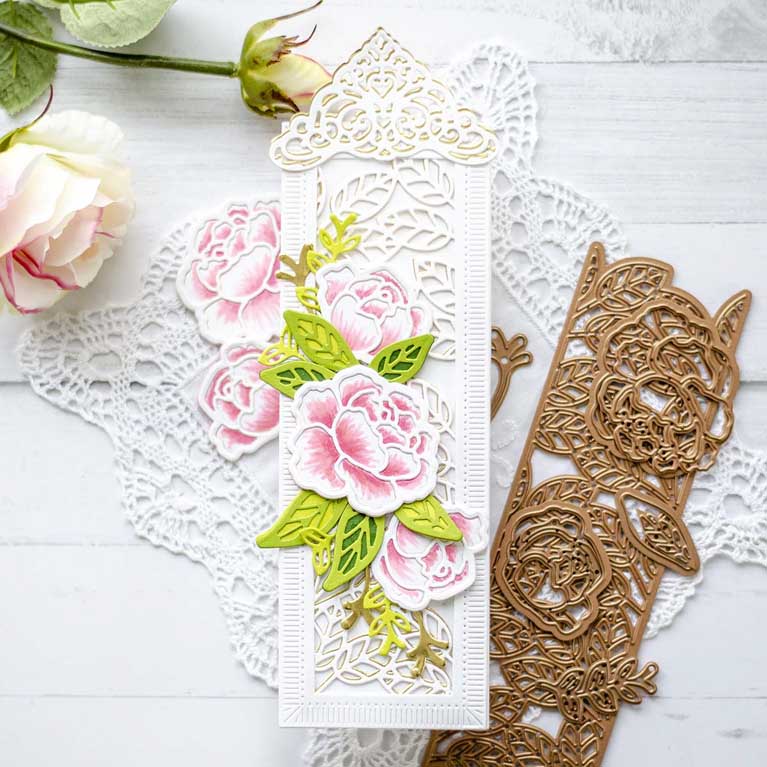 And lightning does strike twice!!  Patricia Manhire shows how easy it is to turn the panels 90 degrees for a vertical presentation.  She's used the same embellishments for two distinctly different cards.



As always, Rajni Chawla layers texture to give you amazing depth on a card.  From the vellum that shows a hint of the blended roses underneath to the tiny pops of gold peeking through to the textured background paper – it's a feast for the eyes!



It's always an art to arrange leaves and flowers on a card but the balance that  Joanna Wisniewska achieves with this stunning, muted card, makes it a sing.  I love to study Joanna's card and her placement because she makes it easy for you to do the same thing in your style.  Just follow her lead!



Kate Skonieczna is showing off a vibrant slimline card that runs the filigree inlaid panel vertically on the card.  Really, it makes a trellis for the beautiful flowers she has created.



Agnieszka Posluszny sure knows how to size up a die!  In her inspiration she looked inside the panel and made a couple of clever clips to comeup with a different background.  I love it! Who knew that a couple of snips would yield something so different.



Tracey Sabella leaves patina where ever she goes!  Today Tracey is sharing a botanical vibe and features her mixed media touches and shading.  All of the extra ephemera is simply icing on the cake!!



Katarzyna Bobrowska created a larger card that incorporates the panel on one side.  She weaves in cut-outs and design paper to help tell the story!
Robin Clendenning takes a sunrise watercolor background and makes it sing for the backdrop of her sweet card.  The vibrant hues are like a glorious sunrise!


That's it for our inspiration this month!!  Each month the Amazing Paper Grace Creative Team takes a Die of the Month and a new Die Collection and spins out unique creations that will give you a leg up when you sit down at the table to create.
To learn more about all things Amazing Paper Grace, you are officially invited to join our private Facebook Group Amazing Paper Grace – Creative Encouragement Facebook Group.  We have a library of papercraft tutorials and a lovely community.  I hope you join us there!
Feel free to reach out to me!  Here's where you can find me.
Let's Chat                    – Follow Becca Feeken on Facebook!
See what's Up            – Follow Becca Feeken on Instagram!
Kick back and Learn –  Follow Becca Feeken on YouTube!
Get Inspired               –  Amazing Paper Grace CREATES on Instagram