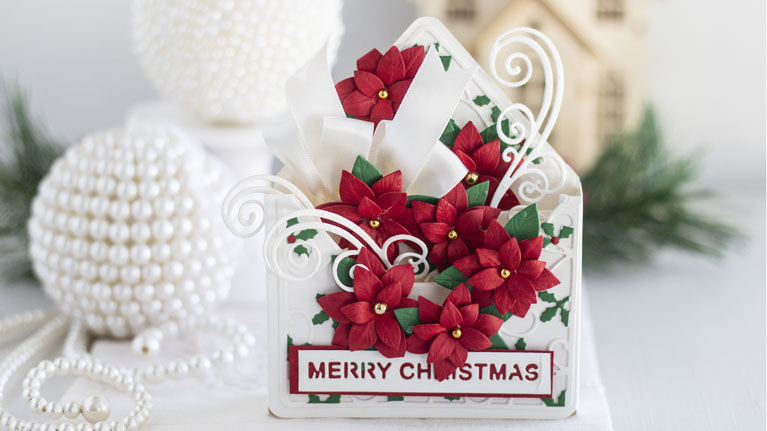 Welcome dear Readers!!  As always the first of the month is exciting around here because I get to introduce a new Die of the Month!!   Poinsettias in the color of your choice tumble down the opening of a dimensional envelope perfectly appointed with flourishes.  Please welcome The Amazing Paper Grace October 2022 Die of the Month, called 3D Poinsettia Surprise Envelope.  Just wait until you see the sweet things you will make with it (hint: in the blog post below)
Inspiration for Pop Up 3D Poinsettia Surprise Envelope
I'm a bit of a traditionalist when it comes to Christmas!  Christmas Red and Holly Green are the first thing I grab on my initial Christmas makes.  Don't get me wrong, I love all of the trendy colors but the Red and Green come first.  There's no mistaking Christmas in my first envelope – it checks all of the boxes and already looks darling on the mantle.  But . . . I'm also sharing an everyday make.
As always I wanted an Envelope that could take you through the full year and for every occasion.  This checks the box!  It is made similar to the other 3D Vignettes and folds flat to mail except the tabs are glued inside.



Here the flowers are flat, in the lead in picture the flowers are dimensional – the choice is yours!



Look how easily the elements translate into an A2 card!



The largest piece has a side tab so it is oh, so easy to link four tabbed pieces end to end to create a box!



Here the envelope is mounted to a card base for an elegant statement.
In today's projects, I have both flat flowers and dimensional flowers.
In this month's video, I show you step by step, how easy it is to construct the Poinsettia Surprise Envelope and how quickly you can fashion the dimensional flowers.
Year Round Crafting Ideas for the 3D Poinsettia Envelope Surprise
Last but not least, I wanted to show you a 3D Envelope that can be sent any time of the year and for any occasion.  Pair the envelope up with the elements from the Seasonal Motifs Collection for Spring and Easter, Summer and Vacation, Fall and Thanksgiving,  as well as Winter and Christmas.
And remember, it folds flat so that it can go into an envelope :-)
Have fun with the Amazing Paper Grace October 2022 Die of the Month, 3D Poinsettia Surprise Envelope!   Hey, and if you are curious about what I've been up to lately in the design world you can check out my recent collection with Spellbinders HERE.
By the way, if you are curious about all things Amazing Paper Grace, you are officially invited to join our private Facebook Group Amazing Paper Grace – Creative Encouragement Facebook Group.  We have a library of tutorials and a lovely community.  I hope you join us there!
Feel free to reach out to me!  Here's where you can find me.
Let's Chat                    – Follow Becca Feeken on Facebook!
See what's Up            – Follow Becca Feeken on Instagram!
Kick back and Learn –  Follow Becca Feeken on YouTube!


Happy Fall sweet friends!  I hope my post finds you happy, stress-free, and making an occasion moment for crafting and self-care.  Say hi in the comments – I'm eager to know what you are up to!