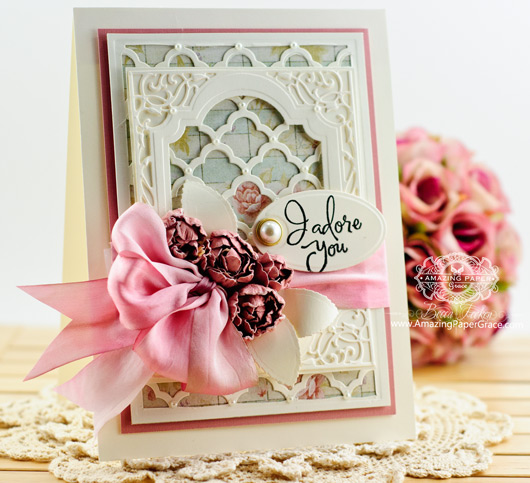 Hi there sweet friends!  Happy Monday morning!!  Peeking in real quick to share a card I've had on my mind.  It's a bit like a window but I love the Spellbinders Grateful Lattice – it simply makes the background.  The frame is made using Spellbinders A2 Divine Eloquence and Spellbinders Labels Twenty Eight.  It's embellished using the three smallest dies from Spellbinders Rose Creations, to make the flowers.  I finished it off by popping a tag on to the side of the frame from Spellbinders Back to Basics Tags.    Instructions . . .  coming right up!
Here's how I made it – step by step:

Create a card base with cream cardstock that measures 5-1/2″ x 7-1/2″.  (Card bases are made with two pieces of 5-1/2″ x 8-1/2″ paper scored and glued as in this Hinge Video.  

With pink cardstock, cut a panel 4-3/4″ x 6-3/4″.  Attach to card base with foam tape (leave bottom pieces of foam tape not adhered until later).

Cut a panel  from design paper 4-1/2″ x 6-1/2″.  Cut/emboss Grateful Lattice from a cream panel 4-1/2″ x 6-1/2″.  Combine both layers then attach to card base using double foam.

Cut a panel 4″ x 5-1/4″ then center and cut Labels Twenty Eight #5.  Cut/emboss frame from Divine Eloquence and Labels Twenty Eight #4 combined.  Combine both layers then attach to card base with double foam tape.

Embellish Grateful Lattice with pearls, bow and 3 flowers made from  3 graduated sizes from Rose Creations.

Cut/emboss the oval tag from Back to Basic Tags, add pearl brad and attach oval to inside of frame with foam tape.
Sending you blessings!  Thanks as always for peeking in on what I'm working on!
Question Parking Lot: