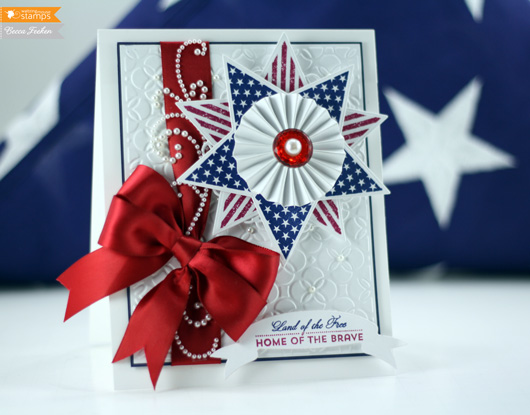 A veterans daughter, a veterans sister, a veterans wife . . . this is my legacy and the brave men who allowed me that legacy, I celebrate and remember today.   I honor their memory with such pride and thankfulness.  In addition, I honor the memory of all the fallen who gave their lives so that we might have freedom and I honor all those who have served.  They are your brothers, sisters, mothers, fathers and husbands too – my heartfelt gratitude to them all.  I guess it was befitting that the release includes a patriotic set of stamps that I could use to reflect those feelings – honestly I have very few of those types of stamps and it felt wonderful to put these to a good use.
CRAFT SUPPLIES I USED
RubberStamps:  Waltzingmouse Stamps – USA 1776
Craft Paper: Georgia Pacific – White, Bazzill
Ink: Versafine Onyx Black, Impress – Indigo Blue, Garnet
Accessories:  Spellbinders® Stars 5, Spellbinders® Whimsy Side A M-Bossabilities, Spellbinders® Stately Circles, Offray Satin Ribbon, Bazzill Button, Recollections Pearls, Becca's Bow Maker,  Grand Calibur Die Cut Machine
Hope you can spare a moment to visit the other ladies today :-)  I hope this isn't too somber, but it's honest — I'm off to the cemetery later to add some flags and say a prayer.  Prayers for all those you are remembering too.