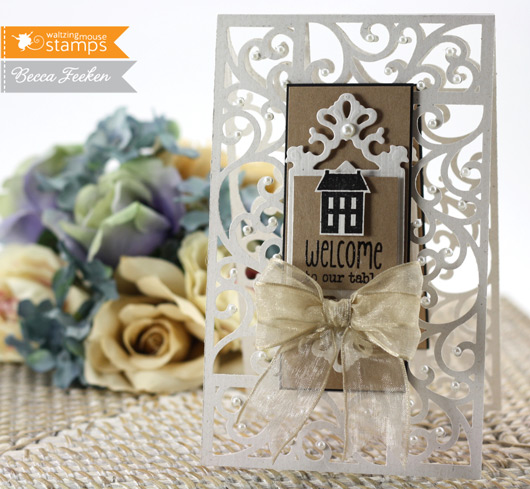 Good morning blog friends.  We're back with another peek at one of the new Waltzingmouse Stamps sets – this one is called Country Labels Four.  I'm absolutely intrigued with this set for its charm and for it's simplicity.  In my small tiny house when we have guests, we have a couple of rituals we follow.  They have a basket of toiletries and towels waiting in their room and then in the dining room we have a chalkboard plate on an easel and we write "Welcome" and the guests names.  It's a tiny touch and and it's so out of place because it sounds like something you'd find at a huge lodge or a bed and breakfast and I think we do it to poke fun of our little abode.  I can't tell how many times our guests gush over those little touches.  All that to say that I think I've found something to add to the ritual – a card to put at their place on the table……  This has to be one of the most simplest I've done this year.  It has to be an easy, quick do if it is to get done when guests are expected . . .   Me thinks I have this one down to 10-15 minutes ;-)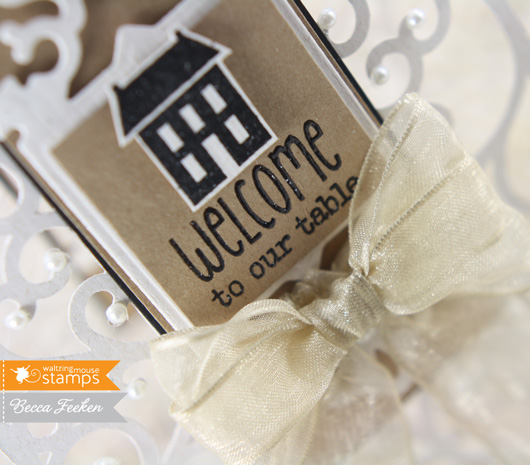 For this card I've simply used a border punch around the edge and it leaves a solid panel in the center.  On top of that I layered Spellbinders® Ornate Squares.  If you're curious about how to punch the  panel, I have a tutorial on Border Filled Frames and it will explain how and the size of paper needed.  If you're curious about how to make the filigree on both the front side and the backside of an oversized card base, then check out my tutorial on Hinged Filigree Cards – except this uses a punch instead of a die template.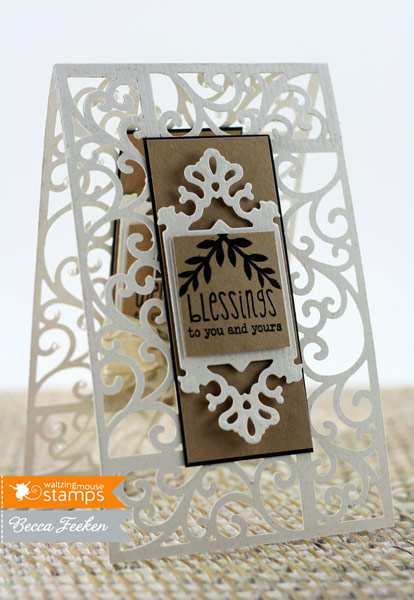 So to recap the layers I used from the bottom up, I started with a 4″ x 6-1/2″ card base, foam tape (optional), black matting layer 2″ x 4-3/8″, brown matting layer 1-7/8″ x 4-1/4″, foam tape (optional), Ornate Squares die cut, foam tape (optional), brown layer 1-5/8″ x 1-5/8″.  The same layers are done on the inside of the card.  Attach ribbon and sentiment on the appropriate layer.
Don't forget to peek in on the other ladies to see how they spun this  set today.  Also don't forget, I have some pretty cool blog candy that's up for grabs until Wednesday, May 29th.  Still feeling lucky?  Good! Click ———>HERE to get to the post where you need to leave a comment or simply scroll back to my post of May 24th.  Hugs to you, hope you had a fabulous holiday!!