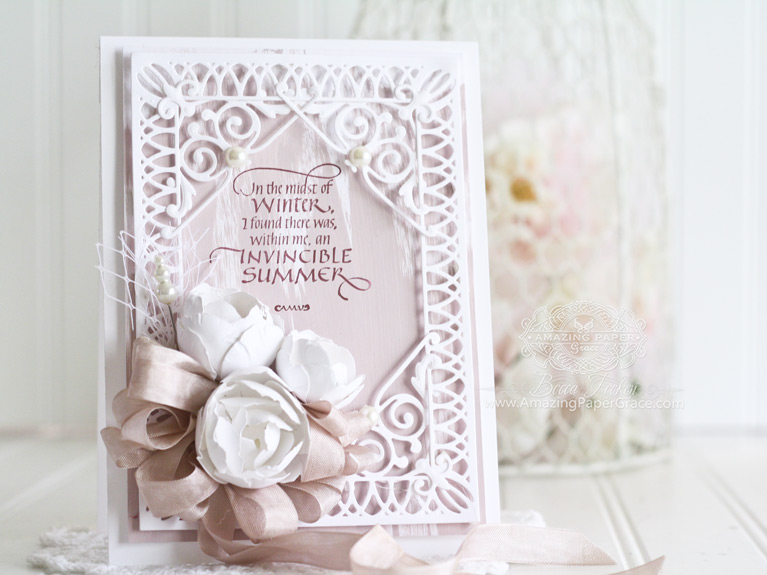 Surprise! I'm back again today friends and I hope you are having a glorious summer! Speaking of summer (although figuratively) today I'm using a new quote stamp from QQuietfire Design that I haven't used before – In the Midst of Winter. It was my mission today, not to use gold, lol. As a shopper, I'm perpetually on the hunt for the "right shade of pink" and last week in the craft store I randomly bought a bottle of chalk paint because it was precisely "the right shade of pink". At the time I knew that I'd be painting it onto paper; I swoon over the texture of chalk. So there you have it, that was the inspiration for today's card – an ode to pink.
Walk Through on How to Make the Card
Base
The base of the card is 5-1/2″ x 7-1/2″ on white Neenah cardstock.  I used the same white paper cut to 5″ x 7″ and painted chalk paint down the front with a foam brush that I had blotted most of the paint off of.  It dried in less than 5 minutes.  (By the way, I used the Hinged technique to make the large card base).
Focal Panel
I used Spellbinders Labels 52 Decorative Accents along with corner elements from Spellbinders Imperial Square.  The lines on the die are fairly narrow so the best way to adhere the frame to the base was by using thin slivers of double stacked foam tape.  Both the painted layer and frame are elevated this way.
Embellishment
I reached out for easy Spoon Flowers using Spellbinders (Contour Die) Layered Blooms.   Using just the two smallest petals I created two spoon flowers using three medium petal sets and two small petal sets.  Then I created a smaller bud using three small petal sets.  They were glued onto a Seam Binding bow and embellished with net and a corsage pin.  I finished up with four large pearls in each corner – 1 is hidden.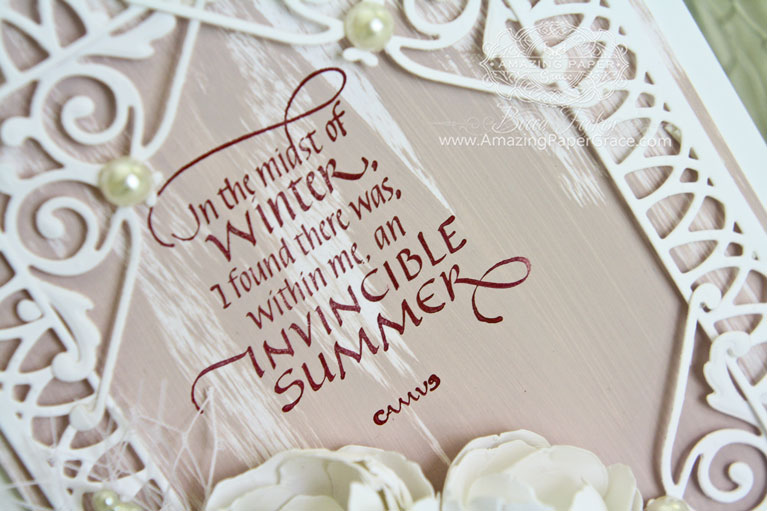 About Day of Giving Friday
Every Friday it's my pleasure to give away a card.   The card goes to a randomly picked reader (worldwide) who leaves a comment in our conversation. Want to know more about Day of Giving, here's a link to my FAQ's just check out #11.  For your comment today:  What's your favorite color and why?



Rubber Stamps: Quietfire Design – In the Midst of Winter
Craft Paper: Neenah Classic Crest – Solar White – 80lb Cardstock, The Fine Touch Gold Metallic Poster Board – Hobby Lobby
Ink:  Fresh Ink – Merlot
Accessories: Spellbinders Labels 52 Decorative Accents, Spellbinders Imperial Square, Spellbinders (Contour Die) –  Layered Blooms, Hug Snug Seam Binding – Rose Beige, Recollections Pearls, Corsage Pin


Just a note to say don't worry if you don't do Instagram :-) It's all good!  I have several new friends over there and I love it that I never miss a comment over there – I get alerts and it alerts folks that I've responded back.   That said, I encourage you to live fully within your comfort zone with no apologies.  Have a great weekend friends – you'll likely see another card from me because I've cleared up my desk to create!!