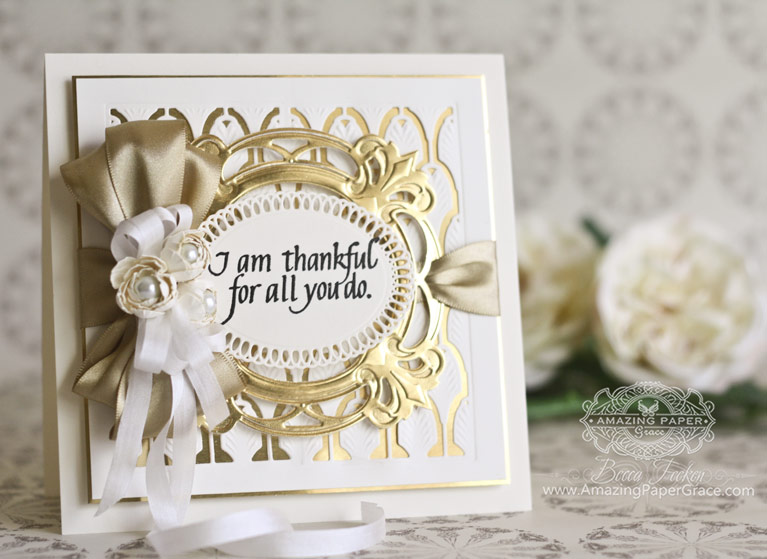 Well hello there!  I have to say that there is nothing like getting new crafting supplies in the mail.  I have new dies that have been sitting in the corner and it just makes me itch to create.  Well, it just so happens that I have a couple of Thank You cards that I need to get into the mail this week so I sat down for a quick create.  Even though I have a pretty hefty stash of cards to draw from, sometimes I like it that the recipient is the inspiration.  I'm also using a new sentiment from Quietfire Design – I Don't Tell You Often Enough.   By the way,  If you're a picture glancer and don't read all the text, that's okay – me too.  Just be sure you pop down to the bottom of my post – I have request :-)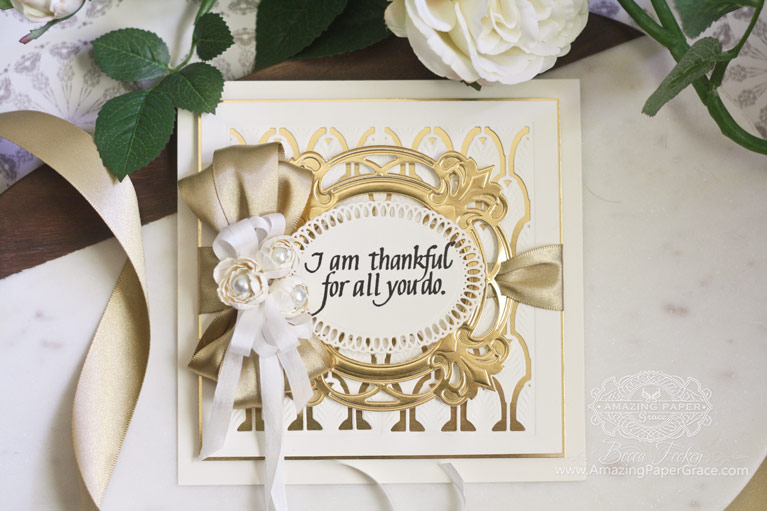 Walk Through on How to Make Card

Base
This is a basic 6″ x 6″ card with a matted layer that is 5-1/2″ x 5-1/2″.  To give the matted layer some texture, I cut the top of the matted layer using Spellbinders Divine Deco (please note I cut it four times to create the panel).
Focal Panel
The focal panel is cut from Spellbinders Savoy Decorative Accent  with the two largest pieces in order to make it a frame.  I topped the frame with the oval from Spellbinders Elegant Ovals.
Embellishment
Hands down my favorite flowers are Spellbinders Cinch and Go Flowers.  Here I 'smushed' them around larger pearls and when totally dry, I peeled back the layers to create a simple but sweet cupped flower that anyone can make.  To see more about this simple technique check out the video HERE.



Rubber Stamps: Quietfire Design – I Don't Tell You Often Enough
Craft Paper: Neenah Classic Crest – Natural White – 80lb Smooth, The Fine Touch Metallic Poster Board
Ink:  Versafine Onyx Black, Ranger Super Fine Detail Embossing Powder
Accessories: Spellbinders Divine Deco, Spellbinders Savoy Decorative Accent, Spellbinders Cinch and Go Flowers, Recollection Pearls, Satin Ribbon – The Paper Source


Have I told you have very grateful I am for the sweet folks that stop by?  Well I am!  I'm so loving my crafty life and getting ready to jump a little bit more out of my comfort zone – yikes!
By the way, I'm hanging out on Instagram quite often and since I can take it with me on my phone am often chatting back and forth with so many sweet readers.  Won't you join me there?  You're welcome to set up a private account and don't have to set it up through any other app.  You can find me at this link https://www.instagram.com/amazingpapergrace/.   If you do sign up, let me know – I have some favorite feeds in Instagram I'd love to share with readers – all that's missing is you :-)