With my last post, I used distress ink applicators that I made because they fit into my stamping budget.  Yep, I can't afford to buy handles and blender pads (Cut n' Dry foam)  for my Distress Ink colors right now.  I love these applicators that I made tho' – I still used the Cut n' Dry foam – it's awesome because it holds ink differently than the porous sponges I had been using.  By having an applicator – no more inky fingers!!
Several people asked in comments, and several others emailed me when they saw the funny applicators I was using, so this post is for you!!  I took pictures when I was making them…just in case I needed to explain…you know what they say, a picture is worth a thousand words.
Just so you know….the real applicators are ones have a wooden handle and velcro to attach Cut n' Dry foam – you can see them here.  Most people dedicate a square of foam to each ink color they have.  Some people have a handle for each ink color they have and some change out the foam depending on which color they are using.  I wanted these things badly since I use Distress Inks a lot, so I came up with this solution.
I re-purposed a set of stamps that I had.  These stamps are currently available at Michaels, so I ended up purchasing an additional set at 50% off – they ended up being $6.00.  ETA:  If you do this don't feel like you have to use round stamps, the square $1 stamps at Michaels work just fine!
I simply took the rubber off the stamp – with this set it peeled away cleanly and also peeled the label off of the top.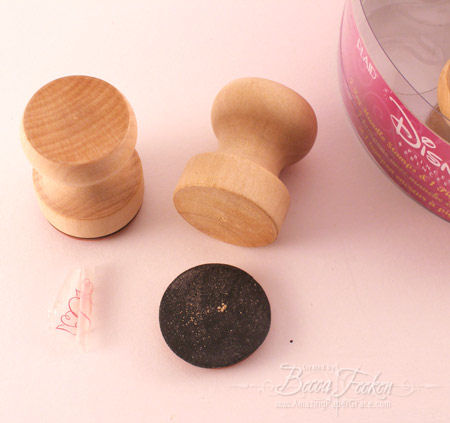 Top the mount with red tacky tape.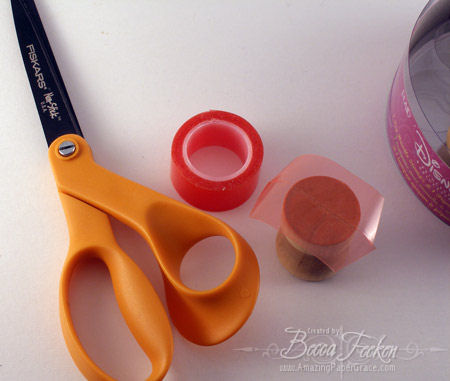 Trim tacky tape down to the size of the mount.  Set aside enough Cut n' Dry foam for each mount that needs to be covered.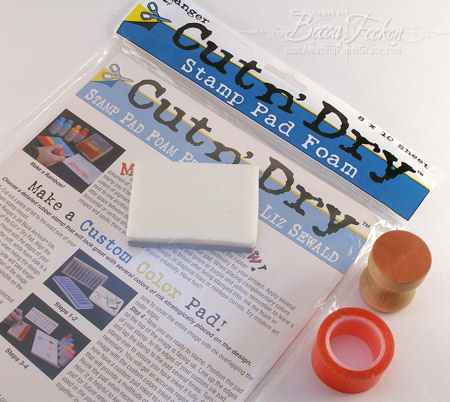 Trim the Cut n' Dry foam to the size of the mount.  The tacky tape will hold it in place.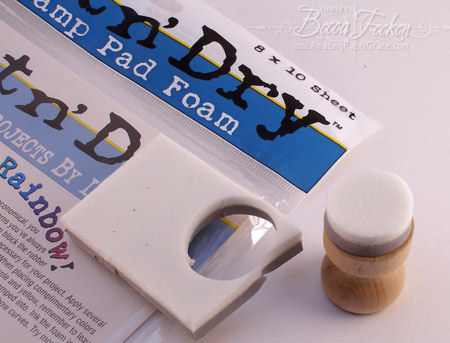 Apply labels so that you can tell them apart.
Here is what the whole set looks like.
Hope this helps those who had questions!!