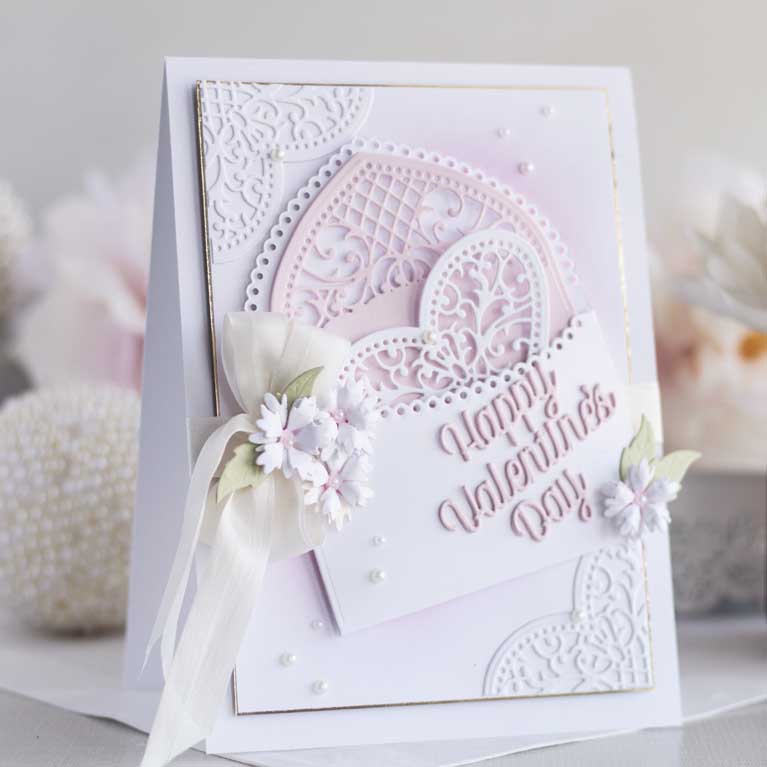 Crafty peeps, it's the beginning of a new month and today it's time to talk about the New Die of the Month! It's not yet Christmas but to allow for prep time, my mind is already on the next holiday – Valentine's Day!  Worry not though, hearts are used through the entire year — thankfully!   Please welcome The Amazing Paper Grace December 2022 Die of the Month, called Sweetheart Envelope and Notecard Set.  I have an absolute penchant for notecards and you will see, this will be the first die cutting set you reach for – year-round – when you want to offer a note, a gift card, or as an enclosure on a package.
Some links may be affiliate links, buying products through these links generates a commission at no cost to you.
I am forever looking to write the quick note!  Inevitably, I look around and there's nothing to write on.  I have to admit, there's a little bit of pressure when people you know you make greeting cards.  It would never do to send just a post-it note or a plain piece of paper.  So that's why I always have these little note cards/envelopes on hand.  They are perfect for a money gift card and they are perfect to tuck in a little note.
Hint:  Did you catch that the adorable corner pieces are simply the die cut heart trimmed with a straight paper cutter?  Yes, what a neat option to have as well as some place to tuck a sentiment or a picture.
From the set you can make an envelope with an enclosure card, a tag, or craft it into a pocket.  You'll see from the inspiration below, that there's no need to stop there – today I'm including a basket and my next project will be a box.   Stay tuned for inspiration below:



I love that the small envelope and all of the embellishments fit on a card front!



Taking it off of the card, the tag makes a great shaped card all on it's own.  Inside was a perfect place to glue down the filigree heart.



Since it's all about Valentine's Day – I crafted a basket to hold all of the Valentines I get.  After I'm done, it gets filled to the brim with sweetheart candies.



I love the notecard and the ability to line the envelope with the tag.  What a sweet way to give a note or a gift card.



Last, but not least – it's so easy to decorate the front and back with the embellishments and die cut flower in the set.
It's easy to make the card I'm showing on my post – it's beginner friendly.  This month for the video, I'm showing you how to make a basket with the Sweetheart Envelope and Notecard Set.  I promise, it's much easier than you think.   Click the link to have a look-see:



I think of my stash of dies as a toolbox and think carefully about the tools I'll reach for the most.  The Amazing Paper Grace December 2022 Die of the Month –  Sweetheart Envelope and Notecard Set  Hey, and if you are curious about what I've been up to lately in the design world you can check out my recent collection with Spellbinders.
By the way, if you are curious about all things Amazing Paper Grace, you are officially invited to join our private Facebook Group Amazing Paper Grace – Creative Encouragement Facebook Group.  We have a library of tutorials and a lovely community.  I hope you join us there!
Feel free to reach out to me!  Here's where you can find me.
Let's Chat                    – Follow Becca Feeken on Facebook!
See what's Up            – Follow Becca Feeken on Instagram!
Kick back and Learn – Follow Becca Feeken on YouTube!
Get Inspired                – Amazing Paper Grace CREATES on Instagram


Keep crafting sweet friends, it does your heart good!