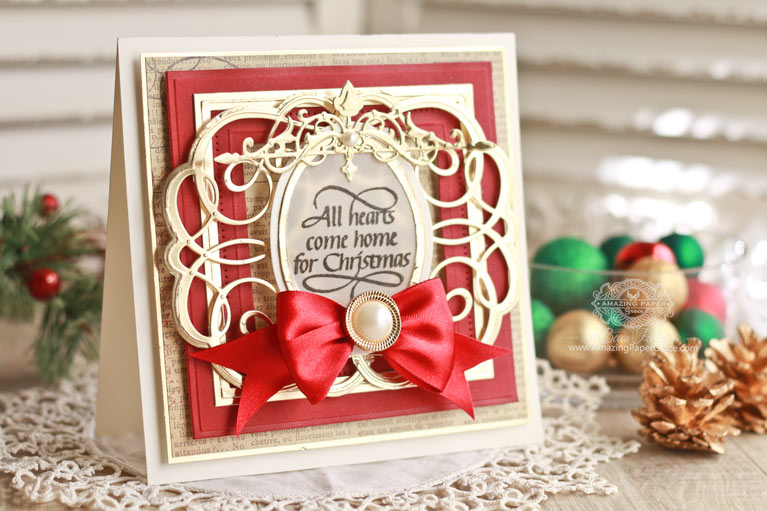 Hi there sweet friends, someone recently asked if I ever make Christmas Cards . . . well, as a matter of fact, I do :-)  There were years that I went so overboard, starting Christmas cards as early as July, that I put them on the back burner for several years by making only a handful.  A Christmas card is one of the most relaxing cards you can make, am I right?  I think about Christmas Carols, baking cookies, hot chocolate, making plans, seeing friends and the goodwill that swirls in the air during the holiday season. Let's just say the celebrations has begun – so here we go, my first card of the Holiday Season – with things.
My card is a series of stacked frames that are layered to create interest – it's my go to style because it is so easy.  On top of my card base I layered design paper matted with gold using 6 x 6 Matting Basics A and 6 x 6 Matting Basics B to get the bottom matting layer and the thin gold frame – I find that by hand, there is no way to cut these as precisely as I want – that where these two sets of dies are worth their weight in gold.  I use them on every square card I make.  The second layer is cut using Pierced Squares along with 6 x 6 Matting Basics B.  On top I layered Swirling Grace (hint I snipped it in half and glued it back together for a smaller diecut).  To finish I created an oval frame with Classic Ovals LG and Classic Ovals SM to highlight a sweet sentiment from Quietfire Design – All Hearts Come Home – another absolute staple in my stash!  Oh, and someone will ask – the embellishment bar with pointed ends is from Regal Allure – it's one of my favs!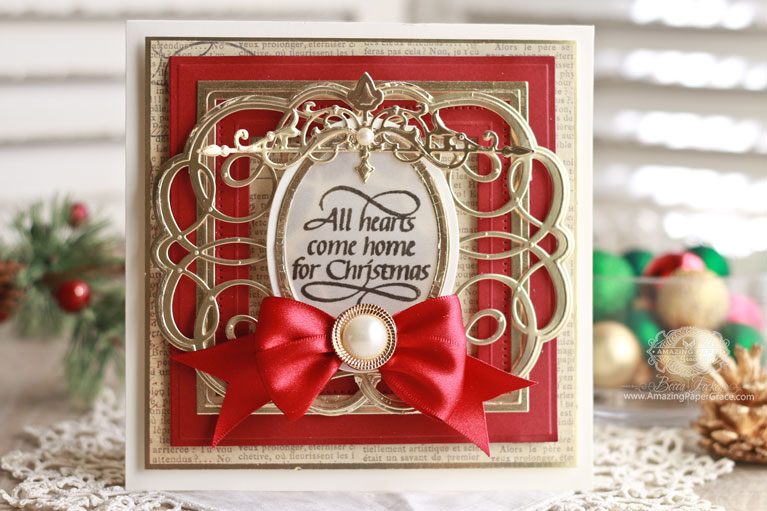 Don't go anywhere though, the Creative Team has some inspiration to share too!


Stamps:  Quietfire Design – All Hearts Come Home
Paper:  Neenah Classic Crest – Natural White – Cover – 80lb smooth, Bazzill – Pomegranate Splash, My Minds Eye, The Paper Studio – Vellum
Ink:  Versafine Onyx Black
Accessories: Amazing Paper Grace Dies, Spellbinders 6 x 6 Matting Basics A, Spellbinders 6 x 6 Matting Basics B, Spellbinders Pierced Squares, Spellbinders Swirling Grace,  Spellbinders Classic Ovals LG, Spellbinders Classic Ovals SM,  Spellbinders Regal Allure, PL-001 Platinum™  Die Cutting And Embossing Machine with 8.5″ Platform, The Paper Studio – Pearls, Satin Ribbon
All of the dies the ladies used below belong to my Graceful Borders Collection seen here.
Sending hugs as we start the slow turn to fall.  Days are glorious here, it's a part of the year I truly savor.  I hope you are drinking in all the magnificence of changing seasons :-)