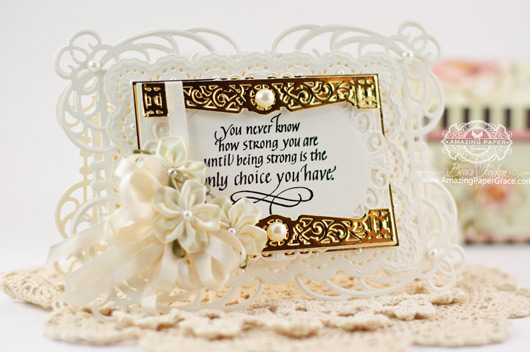 Hi there friends, happy weekend :-)  I've been busy with my grown girls and family stuff but happy to take a break to create!  Spellbinders 5 x 7 Mystical Embrace is one of my favs and I've done a couple of cards with it.  This time around instead of the tall portrait orientation I went for the wide landscape orientation.  This card is all die cuts – no cutting panels at all, in fact I'll tell you how it all stacks up.  I used a wonderful sentiment from Quietfire Design called You Never Know How Strong You Are.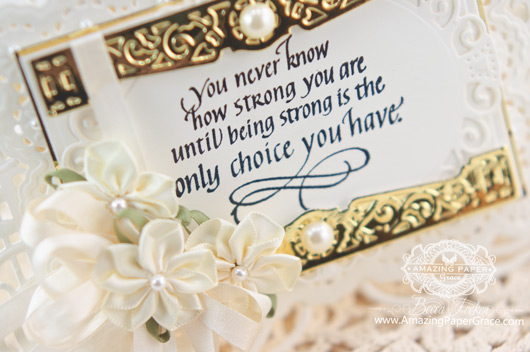 You can see the inside layers in this picture.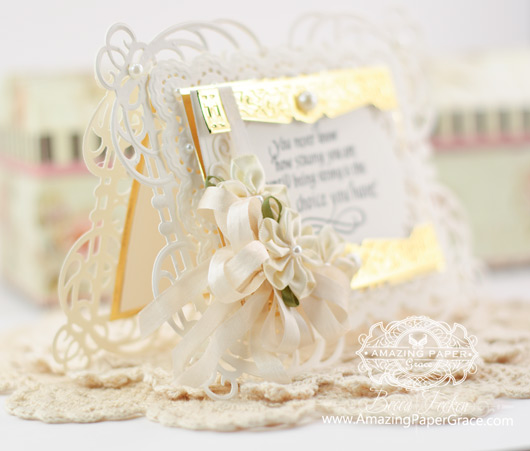 Here's how I made it – step by step:
I made a card base by gluing two cream die cuts of Mystical Embrace  together at the top using Ranger Glossy Accents.  (Check out my post HERE to see what that looks like from the back.)  Die cut a layer using Spellbinders A2 Floral Ribbon Threader  from cream and adhere to base with foam tape.   Die Cut a layer using Spellbinders A2 Matting Basics B #5 from gold and top with a die cut layer cut using Spellbinders A2 Matting Basics A #4 from cream and adhere with foam tape.  Die cut a layer using Spellbinders Elegant Ovals from cream cardstock, stamp sentiment, adhere to base of card.  Die cut two Spellbinders Architectural Accents from gold cardstock and attach above and below sentiment with foam tape.  On inside of card insert a similar set of panels using Matting Basics B #5 from gold and #4 from cream.  Add pearls and bows.
That's it for me today, thanks so much for stopping by!!   By the way, someone asked where they could see the dies and stamps I've designed so I gathered them all up in a Pinterest Board HERE. I'd love it if you'd follow me there – it's a great way to see whole galleries of my cards.  In fact, for the stamp sets and dies, if you would be so kind as to like or repin the sets you like to most, it will help me to know what I'm designing next :-)  You all are the very best!!
Question Parking Lot
Katherine H on Comment #30 asked about the printer I used.   Since there was no printer use on this post, I'll direct you to the next post where I did actually use a printer and another reader asked the same question.  Thanks so much for the question Katherine!  Look at the Question Parking Lot on THIS post for the answer!