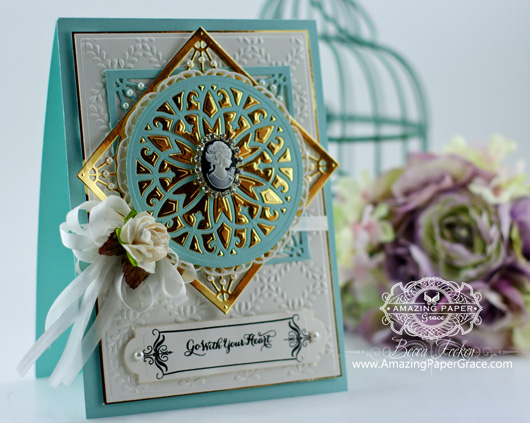 Sweet friends, it's been a whirlwind of a week!  So yes, I've hinted around a little that I have a cool piece of news to share.  It's always hard to do the horn tooting thing but every little triumph is a cause to celebrate and an opportunity to be thankful.  So, in answer to my question who's on their way to the UK –  My dies and stamps are on their way to the U.K.  I wish it were me, but I'm just as blessed and excited.  Let me explain….just like we have HSN in the US, across the pond is a wonderful show called Create and Craft TV.  So, some of my dies (JustRite Custom Filigree Corner Dies and JustRite Custom Lacey Tier Dies) are being shown on the show on Sunday, September 15th (I'll have times and hints on how to view, below)!!  What that means is it's easier for my international friends to pick these items up since a shipment has gone there.    My sweet friend Sue Wilson is a presenter on the TV show and asked me to send over some unique samples for the show. In fact, Sue is also showing sneak peeks on her blog www.particraft.blogspot.com today and has top secret samples of her own she will be demonstrating on Sunday. When you tune in, you'll be able to get more ideas for using both Filigree Corners and Lacey Tiers dies.  On this show Sue is truly amazing to watch in action :-)
My card making idea for today is one of the samples that I sent over for the TV show, it uses Lacey Tiers and by adding back in all the gold cut outs you get a different two toned look.  Gold is so hard to capture on camera but you can see it better in the close up. When I designed Lacey Tiers I had the thought that it would be used like stained glass with the stained glass part being the color in the knock outs.  By die cutting two motifs and backing one with sticky masking tape, you can replace the same colored cut outs with the other color.  I've done so much gold and white lately, but this one would look great and quite dressy in those colors.   Other dies that work in the design include JustRite Custom Vintage Labels Four,  Spellbinders Stately Circles, and Spellbinders 5 x 7 Matting Basics A embossed with Spellbinders Garden Lattice Embossing Folder; the sentiment is from Justrite Papercrafts called Looking for a Sign.

Here's your Step By Step recap of die cuts and layers, from the bottom up:  Start out with a Card Base 5-1/2″ x 7-1/2″ – I have a tutorial on Spellbinders Hinged Card Bases that will show you how to make oversized card bases from solid or filigree panels, if you have any questions.  Then stack foam tape, gold matting layer 5″ x 7″, die cut layer using 5×7 Matting Basics A embossed with Garden Lattice Embossing Folder, foam tape, die cut layer using frame from Lacey Tiers, foam tape, die cut layer using frame from Lacey Tiers, foam tape, die cut layer using Stately Circles, foam tape, die cut layer using round motif from Lacey Tiers.  Sentiment mounted on lower part of card with Vintage Labels Four.
CRAFT SUPPLIES I USED
Rubber Stamps: Justrite Papercrafts – Looking for a Sign
Craft Paper: Neenah Classic Crest Natural White, Gold Mirror Board (Posterboard – Hobby Lobby), We R Memory Keepers Teal Cardstock
Ink: Versafine Onyx Black
Accessories: JustRite Custom Lacey Tiers, JustRite Custom Vintage Labels Four, Spellbinders Stately Circles, Spellbinders 5×7 Matting Basics A, Spellbinders Garden Lattice Embossing Folder, Prima Flower, Prima Leaves, Cameo, Recollections Pearls, May Arts Silk Ribbon, Becca's Bow Maker, Grand Calibur Die Cut Machine
So many of you will find this hard to believe, but my Mom doesn't ever come to my blog and always nods pleasantly when I try to explain what I do.  I think I was so excited about this because when I tell her she might 'get' how big papercrafts are world wide and understand why we're all so passionate about what we do, lol!!  My things are just a blip on the show, but there's lots of other wonderful JustRite projects that will be shown and to put it simply, creativity *will* be in the air.
The air times are:
UK Time = Sunday 12pm to 2pm and 5pm to 6pm
US Time = Sunday 7am to 9am (EST) and noon -1pm EST
All you need to do is jump on your computer then go to www.createandcraft.tv and click on "Watch Live TV"
So yes, we can watch from over here too!  I love watching and always come away totally inspired!!