Well hello there sweet friends!  I'm here to share a card and of course there is more inspiration from the creative team.  There's a story behind my card — as is often the case I knew exactly what I was going to make – the card had been planned and planned and rethought and adjusted and tested and much thought had gone into it.  Then something funny happened.  Perhaps you remember the Reeses Peanut Butter commercial where two random things collide that are not meant to go together but they go together brilliantly?  Well when we're creating, aren't we the lucky ones when that happens.  I was planning to use Marchline Plume and Francesca Label  paired it with some wonderful things and as I was cleaning up my area, I laid it on top of Nouille Decorative Element.  It's a lovely frame and I haven't had a chance to use it yet – when I looked at the combination, I thought — those two are meant to be beautiful together. :-)   I laid everything I had planned aside and jumped on this new adventure.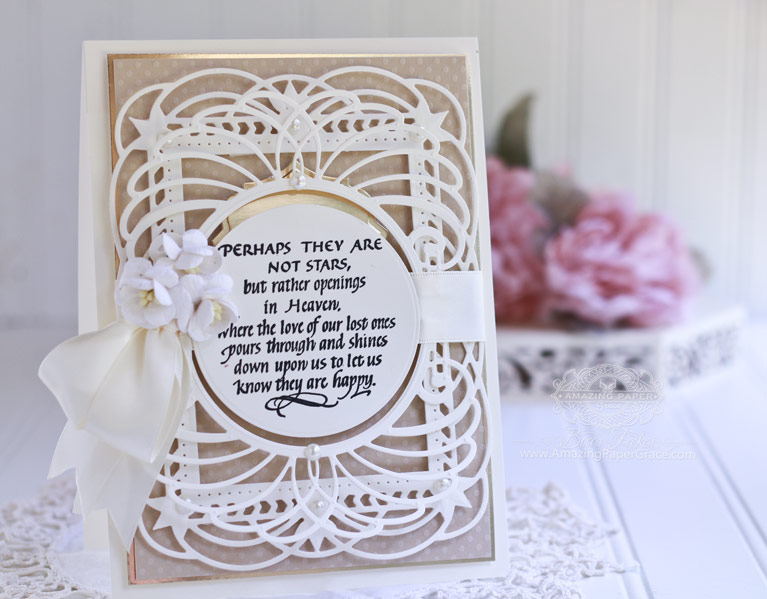 I thought it was an apt lesson for the day.  Good things are around every corner – let them fall together randomly and then marvel at the unexpected.  I was so lucky to have some blessings come together this weekend in the way of a sweet friend and a path where previously I was stuck.  I must remember – in due time it all comes together, so delightfully.  I hope you are in a good place, having a good day!!

Stamps:  Quietfire Design – Perhaps They Are Not Stars
Paper:  Neenah Classic Crest – Natural White – Cover – 80lb smooth, Bazzill Sandbox, Gold Foil Paper
Ink:  Versafine – Onyx Black
Accessories: Venise Lace, Marchline Plume, Nouille Decorative Element,  PL-001 Platinum™  Die Cutting And Embossing Machine with 8.5″ Platform, The Paper Studio – Pearls, May Arts Silk Ribbon
Here's More Inspiration!!
I love it when I catch a glimpse of what the Creative Team has been working on and I love hearing their feedback on the ease or highlights of each die.  Since we're posting inspiration every week, they try to show the dies used in a way they haven't been used before.  That leads to the first card on the list . . . 

Kristi Schurr (above) did quite the number using the Bella Claire Border.  Somehow this just feels right!  What a statement to give your card by mirroring the border to create a background.  She topped it off by coordinating a place to put her sentiment using Giving Occasions.  Can't you just see this for an anniversary card?



Teresa Horner (above) is a master at layering.  She created a crisp card with a focal point built on Braided Grace.  Since she used the shadow part of the die, it gives the background contrast and sets the stage. She then she takes Isadora Trinkets  and mirrors the motif to create a background! Unless you knew what the die looked like, you would think it was a larger die but she masks off her overlapping by topping everything off with Francesca Label .  They all go together so well!!
Melissa Bove (above) has a romantic style that called Isadora Trinkets to task.  She used the pieces of the set to border her card at the top and bottom and then used the largest motif as part of her center focus.  The way she arranged everything sure draws your eye into the center of a very pretty card!






Joanna Krogulec (above) created a shaped card using Isabella Frame and shows you how delicate the inside is.  She uses pattern paper on most of her designs and it gives such a unique feel to her cards. For this one she embellished with flowers from Isadora Trinkets  and added on a tiny sentiment tag from Graceful Tags  If you have not tried a card like this, you must – it's really a treat to give something with such a beautiful inside!!
Anita Kejriwal (above) created this beauty with her amazing flowers, the colors are ethereal!  She is a master at combining flowers so I'll deconstruct what she used here – the small blue flowers are part of Isadora Trinkets and the large lavender flowers are Cinch and Go Flowers I.  Her background is a lovely frame created using  Hemstitch Rectangles and her sentiments that she pulled from the Graceful Tags set with stamps are sweetly placed on Decorative Swallowtail Tags.  So much to see here all anchored by those pastel floral beauties!!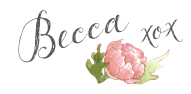 Please if you have a moment, click the links above to my sweet creative team.  Better yet, if you have a moment for a kind word, it would be an awesome gift to leave them your thoughts.  They are all so kind and make the sweetest cards to share.  I'm so blessed to have them all in my life and they make me a better person every day through the kindness they share.