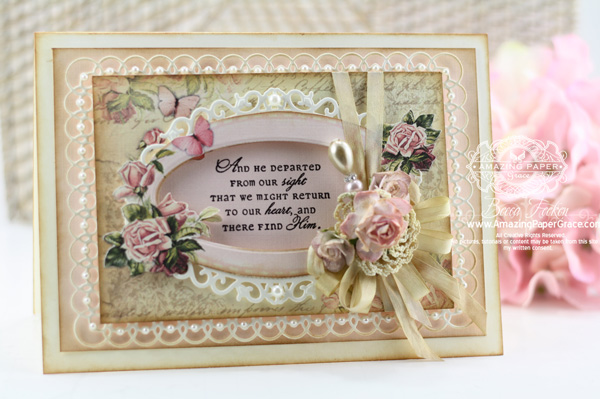 Good morning sweet friends, a card today but also something I need to talk to you about!  Thank you so much for being understanding over my test post yesterday.  The reason that I sent it was to test to see if people who subscribe through a reader were still getting my posts.
Let me explain – there are changes afoot in blogland and most of you won't be affected, but some of you will.  There are two kinds of subscribers here at Amazing Paper Grace – I outline them below:
Amazing Paper Grace Email Subscriber – Every time I write a post you get a notification that pops up within the hour, in your email.
Nothing changes for you – you are all good.  As a matter of fact, please don't change a thing – I'm getting ready to offer random giveaways through this venue because it's easy to randomly pick a name from this list.
Amazing Paper Grace Reader Subscriber – When I write a new post it appears in your reader program, the next time you open your reader program.  
If you are using Google Reader as your method to subscribe, Google Reader is being retired on July 1st and the list of all the blogs you subscribe to will go away with it.  If this is you, I encourage you to go to www.Feedly.com (or www.bloglovin.com) and download their reader program.  I'm very familiar with Feedly and when you sign in with your gmail account that you used for Google Reader, it will automatically ask if it can save your blog list.  Yay!!
No matter what reader you use, please make sure that your subscription to my blog is www.amazingpapergrace.com and not http://feeds.feedburner.com/amazingpapergrace/tsap.  I love my readers and don't want anyone to go missing, lol!!
Yes, you can do both but in todays uncertain climate with Google Reader going away, email subscription is a stable bet!
Okay, enough of that, today I'm sharing a card that I made earlier this week to share on my sweet friend Janet's blog, I didn't think she would mind me sharing it here.  I've been a customer of Janet's since last year but didn't know her until you all asked about the paper that I used on my Filigree Box and Card ensemble.  Since then, I've kind of fallen head over heels into her collections  at ByDigitalPaper on Etsy.  Her paper lives right here on my computer where I can get to it in a heartbeat to find the right page for my project!!   Using her Bellissima panel (which I enlarged), I backed it up with Spellbinders 5 x 7 Detailed Scallops.  Using the same layer of Bellissma, I fussy cut  the roses around the perimeter then used my Spellbinders Classic Ovals LG to cut the rest of the border while inside I used the tall oval from Spellbinders Radiant Rectangles.  Ha, this might be the second time I've ever said 'fussy cut' on this blog because it's something I rarely do but I wanted the dimension of the roses.  I backed my oval layer up with Spellbinders Floral Ovals.

SUPPLIES I USED
Stamps:  Lizzie Ann Designs – Him in Our Heart
Paper: Neenah Classic Crest Natural White Smooth 80 lb,, By Digital Paper – Bellissima
Ink: Versafine Onyx Black
Accessories: Spellbinders 5 x 7 Detailed Scallops,Spellbinders Classic Ovals LG, Spellbinders Radiant Rectangles, Spellbinders Floral Ovals,
 May Arts Silk Ribbon, Recollections Pearls, Michael's Dollar Bin Cream Mini Doilies, Darice Pearls, Mulberry Roses 
Becca's Bow Maker
Goodness, that's a long post . . . it's ramping up to be a busy week.  I'll be back tomorrow!