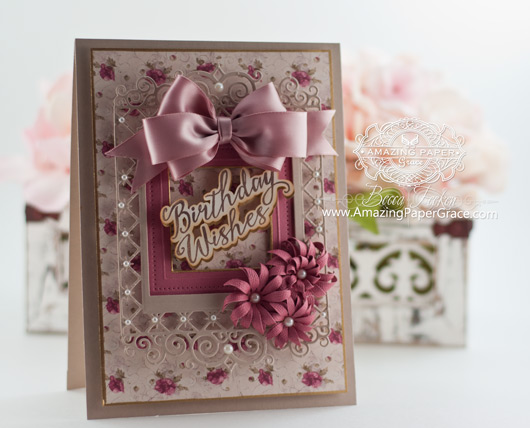 Good morning friends!  So happy to have had some crafty time, I have a card to share and a cool sale to talk about.  About the card . . .  try as I may, I'll never have enough Birthday Cards on hand, so I added another one to the stash.  I've used JustRite Grand Handwritten Sentiments and  JustRite Grand Handwritten Sentiments  SVG along with Spellbinders Labels 47 Decorative Elements, Spellbinders Pierced Squares and Spellbinders Blooms Four.  And  oh how I love Labels 47 Decorative Elements. This is the first time I've used this template and I sure don't know why, it's absolutely delightful and so airy!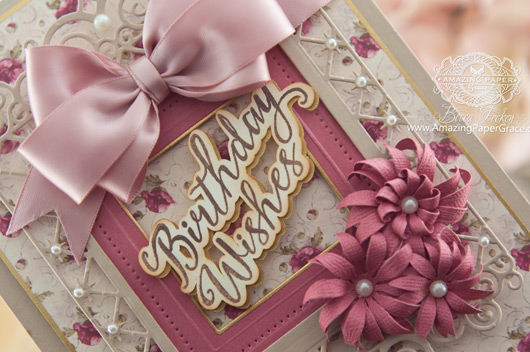 I created the frame look using Labels 47 Decorative Elements and cutting the aperature using the Pierced Squares Template, then I inset a smaller square for a contrast effect.  The small flowers were made with Blooms Four which has three small flowers that I stacked to get a variety.  The Sentiment is cut using a JustRite SVG file and I love it that there are holes in the interior.  I wanted to create a dimensional cut element by stacking and offsetting two identical layers.  I colored the edges of the bottom layer with a gold krylon pin and it reminds me of the pricey little elements you buy at the craft store.  Frugal me = happy crafty girl.
Be sure, to stop by the JustRite site to snag some of the cling sets that are on clearance.  They're clearing out to make way for a big summer release in the coming months.  Savings are up to 70% off!  Umm, enabling done, you're welcome.
Tomorrow I'll have some hints on a Handmade Giveaway I'll be having on May 1.   Hope you can stop by :-)
Question Parking Lot: