Sweet Blog Friends, first of all let me say thank you for all the surveys that are coming in.  Please know these are simple questions just to check and see who's out there.  I like to think I know readers preference, many of you email me.  It has been a while since we have done a poll of any sort, but you should know that if there are no software conflicts, Polls are going to resume again.  Also I had to smile when I read your comments, Layer Recipes are coming too.  They will be added slowly but they will come.  In the meantime I  wanted to share a couple of card making ideas.  Starting with the first – it uses new Spellbinders dies – in the nick of time to start my Christmas stash.  This month JustRite Papercrafts released Grand Christmas Sentiments – very nice sized Christmas salutations (2-1/2″ across) – I'm using a dressy Merry Christmas!
The  new die template is Spellbinders Gold Majesty Circles.  I paired it up with Spellbinders Standard Circles SM and Spellbinders Twisted Metal Tags and Accents and on the bottom layer used Spellbinders Gold Labels Four.  The small flourish in the flowers is Spellbinders Jewel Flowers and Flourishes.
Here's your Step-by-Step Recap:  Start out with a cardbase 5-1/2″ x 7″, foam tape, red matting layer 5-1/8″ x 6-5/8″, white layer 5″ x 6-1/2″, velvet and silk ribbon, die cut layer using Gold Labels Four (reserve inner circle), foam tape, die cut layer using Gold Majesty Circles, die cut layer using Standard Circles SM, die cut layer using Twisted Metal Tags and Accents, red organza ribbon, Jewel Flowers and Flourishes for flower.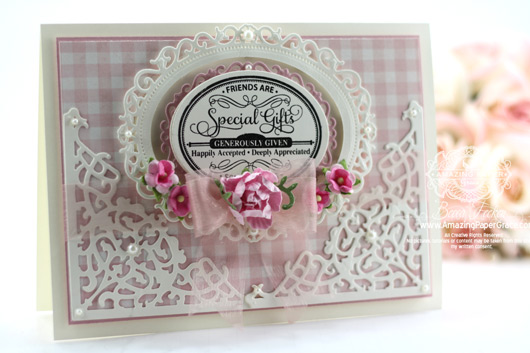 My second card is a little bit of a tease.  After my kit club was done, I can't tell you the number of crafters wrote to JustRite Papercrafts trying to get the corner dies – they sold out with Kit.  So, JustRite pulled them back into manufacturing and they are available to ship right now ( I know, enabling).  I'm tickled because it was one of my favorites to design – they are Spellbinders Custom Progam for JustRite Filigree Corners Dies.  I paired it up with Spellbinders Floral Ovals and Spellbinders Classic Ovals LG.  The sentiment is another from JustRite Papercrafts called Special Gifts Labels Twenty Nine.
Here's your Step-by-Step Recap: Start out with a cream cardbase 5-1/2″ x 7-1/2″, die cut layer using Classic Ovals LG, foam tape, die cut layer using Floral Ovals and Classic Ovals LG cut at the same time, inside oval stack foam tape and smaller Floral Oval, foam tape, small Classic Oval LG.  On corners add Filigree Corner Dies.  If you are curious how to make large card bases for a card like this one be sure to see my tutorial on Spellbinders Filigree Hinged Card Bases.
Today's card is relatively simple but I must tell you the JustRite Design team is primed to show this one off tomorrow along with a new stamp set from me.  So when you sit down with your coffee or tea tomorrow morning, come visit me :-)  Hang on tight, it's going to be a busy week!!
Hugs friends!  Don't forget to pop over to read this long post to leave a comment, and my 'I Need Your Feedback Blog Candy.