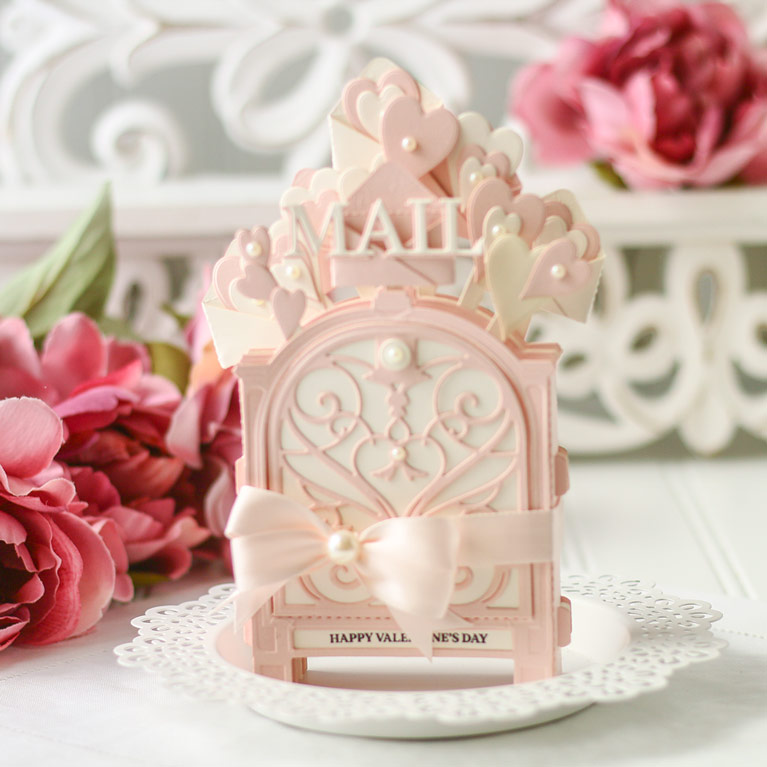 It's finally here – 2021!!  I have it on good authority that 2021 is destined to be so much better than 2020.  One of the things I look forward to when coming into a new year is the coming of spring and all of the spring holidays.  I only thought it fitting to start out the year with a new die of the pointed squarely at Valentine's Day.  Whether you have a new passion in your life or simply want to tell someone you are thinking about them the Amazing Paper Grace January 2021 Die of the Month – 3D Mini Vignette Valentine's Mailbox is bound to bring a smile of delight to a daughter, a son, a friend, a teacher or a sweetheart.  For you A2 Card fans, guess what, this one is A2 sized!
As with other 3D Vignettes, the Valentine's Mailbox collapses flat for an envelope.  I think it's an intriguing reveal.  I love buying vellum envelopes so that folks get a romantic glimpse of what they are getting ready to open.
Inspiration for 3D Mini Vignette Valentine's Mailbox
As a kid, I absolutely loved Valentine's Day.  There was just something about counting up all the little envelopes.  It wasn't a competition to get the most, but the fact that everyone swapped them and you walked home with a handful of little envelopes mush have shown a measure of sweet kindness.  It was that "thing" about all the little envelopes that inspired me to create a mailbox full of them.  My favorite part is that the front of the mailbox hinges opens to reveal either a sentiment or the picture of a loved one.

It's a quick and easy assembly for the Mini 3D Vignette Valentine's Mailbox and in the video, I show you how:
3D Mini Vignette Valentine's Mailbox Samples
I'm so tickled that this die set also functions just like a 3D Vignette, except for this one is a "mini".  You simply cut the aperture and fill it with whatever you like.  For my sample above I decided that instead of having the hearts and envelopes extending outside of the card, I wanted them contained down inside of the card.  It makes a sweet little diorama that folds flat for mailing.





Because of the "mini" size, it fits onto an A2 Card and inside of an A2 envelope.  I thought it would be great to make a shaped mini note card.  It's a lovely size for a notecard and is a breath of fresh air for me after becoming so accustomed to large cards.
I hope you like it!  I honestly found joy in playing around with this month's die and it was a real joy to design. Plus I can't wait to use it after Valentine's Day since the base is a 3D Vignette.
are sharing lots of tutorials in a place that we can chat and answer questions –
Coming Up
Do you love making boxes, paper flowers or using your dies in unexpected ways?  Then you need to stop by and visit us at the Amazing Paper Grace Creative Encouragement Facebook Group   Me and the Creative Team post over 10 new tutorials each month showing you creative new ways to use the dies as well as tutorials on flower making.
The Creative Team always loves to show you their take on the new Die of the Month.  We'll be back on January 4, 2021 for more inspiration with 3D Mini Vignette Valentines Mailbox!


Happy New Year sweet friends!  I hope that 2021 brings you safety, happiness and love!