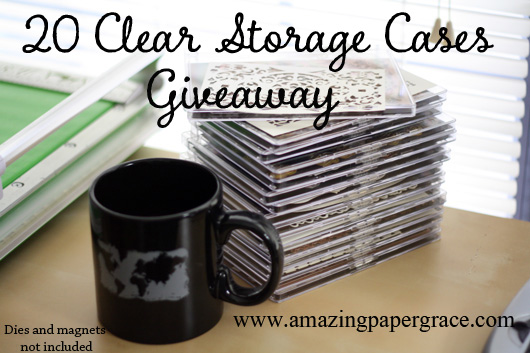 Hi there friends, guess what time it is!!  Yep, I just got new dies so I'm being a good girl and filing them away where they belong :-)  It just so happens that I had to purchase more clear cases so that I can stay on top of it all and this time around I ordered extra.  Seems to me it's the perfect time for a giveaway – so I'm offering up 20 clear cases for your storage needs!  If you've been a frequent visitor to Amazing Paper Grace then you know I love to give out these cases – they are something I personally use for die storage and some rubber stamp storage and the folks at www.Tapeonline.com have been very gracious with my readers in the past as well as offering wonderful customer service.  Here's a link to the post where I showed my die storage for those of you who are new to the blog – the blog post has links directly to the cases – http://www.amazingpapergrace.com/organization-die-storage-2014-and-giveaway/
The Important Stuff:
The giveaway begins now and will go until  Friday, September 26 at midnight and I'll announce a winner on Saturday, September 27th – the name will be picked by comment number through random.org.  In order to win all you have to do is leave a comment here on the blog telling me what craft items rank among the top items at the top of your wish list.  You're welcome to leave one comment per day (between 12:00am CST and 11:59pm CST).  The clear cases are offered for domestic US Shipping only because international shipping exceeds the cost of the cases HOWEVER, if you are one of my sweet international guests, I'll offer an alternate prize of a stamp set and two small sets of dies and I'll take care of shipping.  
So jump in and tell me what's on your wish list!  Come back every day and let me know what else is on your list because it can't just be one thing.  Then be sure to pop by on September 27th to see if you are the winner.  One and two word comments tend to get swept into my spam filter and there are far too many for me to sift through daily so I encourage you to leave comments that are complete sentences and refer to the blog candy.
Sending you all huge hugs and Happy Monday!!