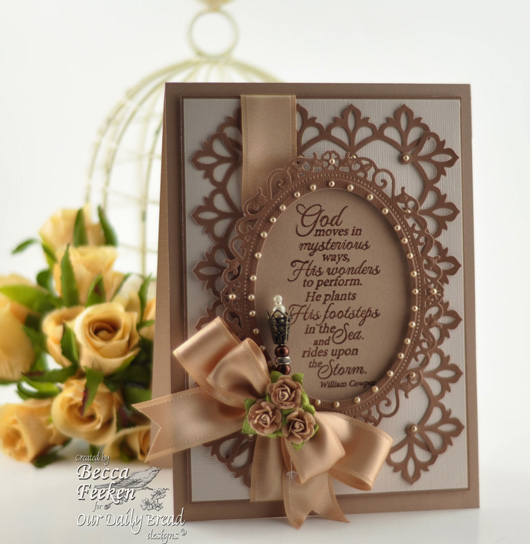 Hi there blog friends!!  Sometimes when you sit down, a piece of inspiration comes to you that eventually you can carry through your card.  I sure wish that happened more often, because once I can hone in on a piece of inspiration, the rest of the card comes together quickly.  Today I knew that I wanted to work with tone on tone – it's always a classic look and so pristine that it lends itself very well to formal cards.  I'm sure it would work with other colors but taupe headed to the top of my list and I found three shades that I thought worked together well.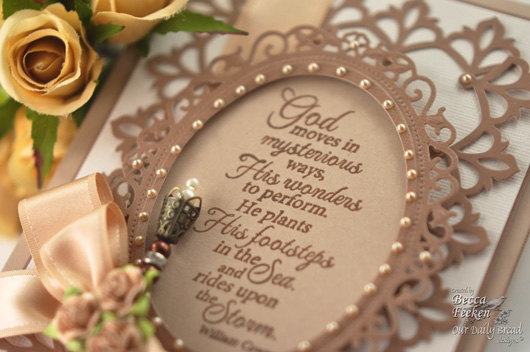 While playing around I liked the result of arranging the border from Spellbinders™ Damask Accents into a frame – it makes for a big card (5 1/2″ x 7″), but that seemed to be the perfect size to show off Spellbinders™ Floral Ovals.  Next, I was on the hunt for a big stamp to fill that large oval and landed on a newly released stamp from Our Daily Bread Designs called the Sea.  When cutting Floral Ovals, I also cut out an oval inside using Spellbinders™ Classic Ovals LG #5 to create a frame.  I backed the frame with a slightly larger oval from Spellbinders™ Grand Ovals #1.  
I added a bow and a pearl pin with filigree then finished off by laying small pearls around the frame (sounds tedious but only took about three minutes).  Oh how I love taupe :-) 
SUPPLIES I USED
Stamps: Our Daily Bread Designs – the Sea
Paper: Bazzill, Coredinations
Ink: Versafine Vintage Sepia
Accessories: Spellbinders™ Damask Accents, Spellbinders™ Floral Ovals, Spellbinders™ Classic Ovals LG, Spellbinders™ Grand Ovals, Satin Ribbon, Recollections Pearls, Recollections Flowers, Bead Landing Filigree, Pearls, Pic
I am . . .
thanking you for your wonderfully optimistic and sweet comments and sending good thoughts and blessings your way on this amazing day.