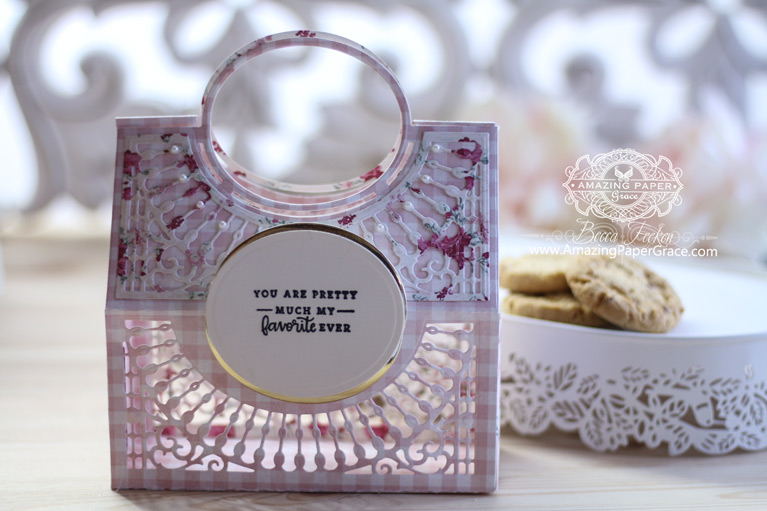 Hello there sweet friends!!  Many of you asked me for a tutorial to show you how to make my little basket — your wish is my command!  I bring you the Softly Spoke'n Gift Basket!  I've had a lot of fun crafting these little baskets – they are perfect for cookies and little goodies.  Since the Softly Spoke'n Flip and Gatefold Die is intricate – it creates a beautiful see-through effect that gives just a little hint of the goodies inside.  The die is Decembers Amazing Paper Grace Die of the Month  by Spellbinders.  I've been blogging with it the last two weeks to show you the other things it can make. Stay tuned for the Video Tutorial at the end of my post.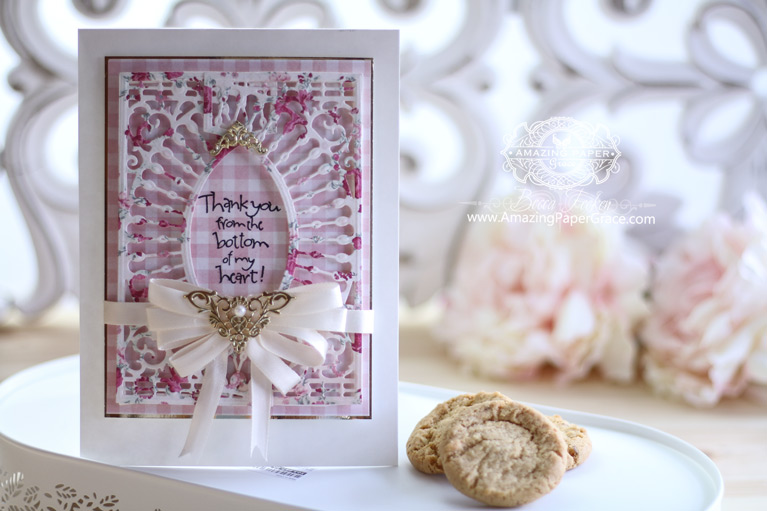 I'm smitten with these little baskets and they are so easy to make!!  Here's the line up of the few that I made to hold some cookies:



As you can see, I changed around which inlaid panels I used so that the open parts of the boxes would be in different places.  Then I wondered how it would fare with a design paper.  I have to say that I'm tickled with the effect of the design paper.  That will let me theme future boxes depending on occasion!!



I love the presentation of the gift basket and think it makes a lovely centerpiece.  Can you imagine making one for a wedding or to have one sitting at a place setting for a luncheon?  We dream, right?   This post has lots of pictures but I definitely wanted you to see how easy making the basket it and how many options you have for a beautiful finish.
How to Make the Softly Spoke'n Gift Basket


Stamps:  From my Stash
Paper:  Bazzill – Pale Rose,  Print Basket – My Minds Eye
Ink:  Versafine Onyx Black and Clear Embossing Powder
Accessories:  Amazing Paper Grace Dies by Spellbinders, Amazing Paper Grace December 2018 Die of the Month, pearl stickers,  satin ribbon


I haven't done a video for my channel for a while and it sure felt good!  I'd love to hear from you if you enjoyed this and plan to give it a whirl!