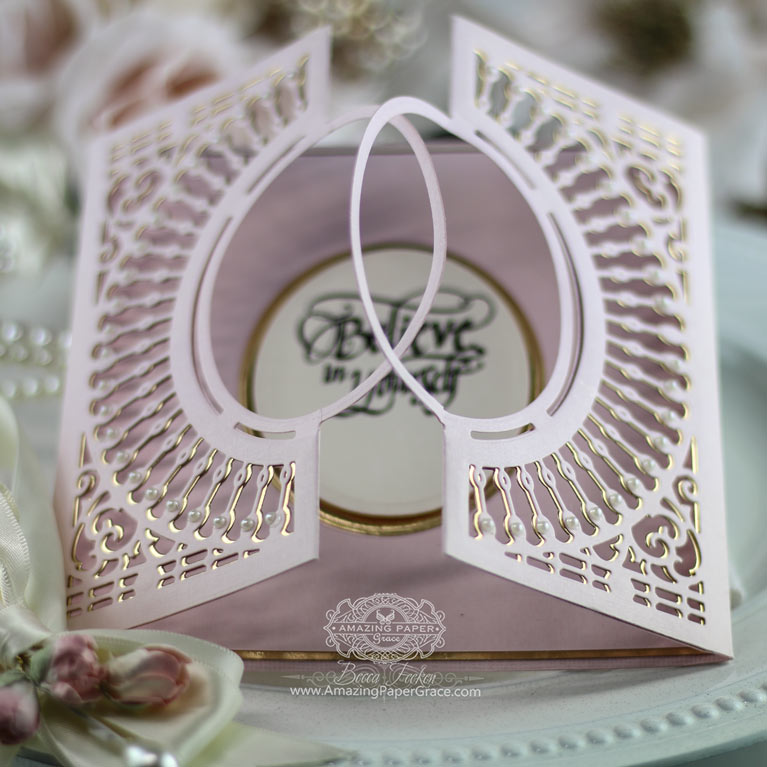 Sweet friends, it's here!!  Today my new Die of the Month – Softy Spoke'n Flip and Gatefold Card is available!!!  This is always an exciting day for me – a reveal.  I worry over these things like a mother hen, always wanting to make sure I'm offering something that is stash-worthy, that it will allow you to make many things, that when your recipient gets your cards they will gasp and that you get a great value packed with options.  It's very easy to design a die but it's the other stuff – extra planning, consideration and forethought on uses that goes into the mix that makes a great die.   November's Die of the month sold out and I wanted to say thank you!
About Softly Spoke'n
Softly Spoke'n is a set of 9 dies that have to be one of the most versatile sets I've made to date. The main motif is characterized by a lovely design of spokes that are punctuated by mini dots — very much in the style of Gingerbread Architecture — that are the perfect landing place for a gem or pearl. Out of the box, this card makes a no-brainer gatefold card without any calculating or measuring.  But, the wonderful thing is that the combination of dies can be transformed into anhttps://www.youtube.com/watch?v=kttN8ii6Wwoything you dream of – a gatefold card, a goodies box, a basket, a pocket card, a candle wrap, a background, tags.  There are enough rims, inlays and pieces in the kit that give you the flexibility to use the dies any way you want.
Here is a card making tutorial video ——-> HERE
Softly Spoke'n Tips and Tricks
Here's how it works – this is a 6″ die and on one of the four sides (for flexibility of use) there is a score line instead of a cut line.
Want to make a 6″ x 6″ card?  With paper that is 6″ x 6-1/4″ cut once. Since this is an intricate die, I recommend turning up to 90 degrees and running it through your machine again.  Trim along score line.  That will give you a background.
Want to make a gatefold card?  With paper that is 6″ x 12″ cut once, orienting your paper so that the scoreline of the die is at the bottom.  Since this is an intricate die, I recommend turning slightly up to 30 degrees and running it through your machine again.   This will give you a 12″ panel and you need two of these.  Fold on scorelines – there is a scoreline in the center of the motif and a scoreline at the 6″ mark.  Overlap and adhere the two solid parts of the panel.  As your motifs fold toward the center you will get a double thickness on the spoked detail, adhere those two thicknesses together to give you a solid flap on your gatefold.  Add your embellishments and a closure.
Options!  If you don't want to cut the whole front of the card at once, you can break it down.  Run through the square frame of the die that also cuts the oval then add your inlay or inlays and run through a second time.
By the way, there is a packaging insert that comes with the Die of the Month that will show you how to put this card together.  Since it was my main inspiration I wanted to show it here.  For this particular card, I used a Quietfire Design sentiment from the If You Don't Believe in Miracles Set.   I have several inspiration posts planned (while the die is available).
Want to see more of what I made with the die?  Pop right over to THIS POST on the Spellbinders Blog and you'll see some additional items I created!


Stamps: Quietfire Design – If You Don't Believe in Miracles Set
Paper:  Neenah Classic Crest – Natural White – Cover – 80lb smooth, Bazzill, Gold Foil Paper
Ink:  Versafine Onyx Black and clear embossing powder
Accessories:  Amazing Paper Grace Dies by Spellbinders,  Softy Spoke'n Flip and Gatefold Card


Thanks so much for stopping by today!!  I'll be back soon with more inspiration!!