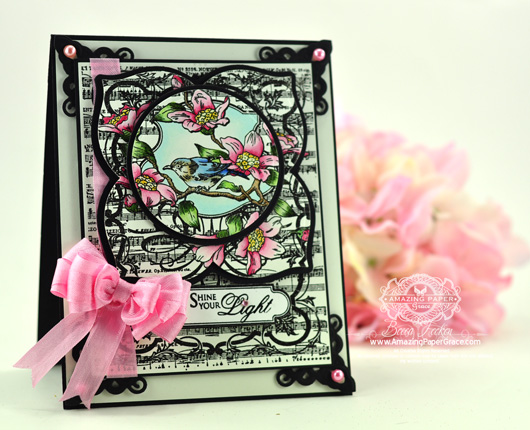 Good morning Blog Friends!  I broke out my copics and had a delightful time coloring.  You know that doesn't happen very often, but I really do enjoy it.  I've been drooling over this new background stamp called Songbird Background Stamp  by JustRite Papercrafts, and set down to wrap my mind around different ways to use it.  The images on the collage are just so pretty and I thought that by layering it up it would really highlight the artwork as well as create a lot of dimension.  I colored the image one time and cut all three layers from the one colored image.   Because each layer has a black mat it hides the hole underneath it.  Of course, this set up is an excellent way to cover a goof, if needed.  I paired it up with a lovely sentiment from the December Amazing Paper Grace Kit and was thrilled to see that the slot left for sentiment will take a long sentence – lots of options from my stash that I can use there!
From the bottom up I used Spellbinders™ Labels Twenty Four and hand cut the black layer.  On top of that I added the center part of my image cut from Spellbinders™ Standard Circles LG matted on Spellbinders Standard Labels SM.  I finished off with the decorative corners from Spellbinders™ Asian Accents and nestled a large pearl on each corner after tying on a bow lengthwise.
Wishing you a colorful day :-)  Thanks so much for stopping by!  See you soon!