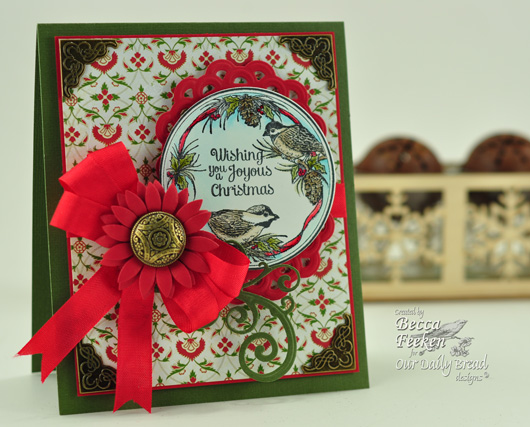 Sweet blog friends, I hope you had a wonderful Thanksgiving!  Mine was so untraditionally laid back.  In years past, every detail was known well before the week arrived and this year, I learned I would have company two days out.  I was not going to cook so then the wild hunt for a place for dinner.  Our favorite place was booked so we went with another and then abandoned that when the line was around the block.  In the end we had a marvelous dinner and none of the fretting.   Know this — I am never this laid back but it honestly felt good to let go.  What a blessing!  In the meantime, I had an afternoon to craft while entertaining company – since we were watching TV, I put my hands to work for another Christmas card to add to the stash.
I centered the ornament cut from Spellbinders™ Standard Circles LG on two circle motifs from Spellbinders™ Asian Accents.  For embellishment I used the flourish and flower from Spellbinders™ Jewel Flowers and Flourishes.  I just love the metal corners I found at Micheals, they frame the edges nicely :-)
Hugs friends, I had a brief blitz of card making so I have a couple of posts scheduled!!  See you soon!