The winner for this Giveaway is:
JENELL STOCK who left a comment on this post on January 3, 2020 at 8:35 am
Jennell, please go to the contact tab on the upper right-hand corner of the blog and leave your address in the form. I will be forwarding it to Spellbinders so that they can send your winnings!
********************************************************************************************************************
It's been an amazing year with new challenges, new friends and in many ways a new me.  I'm so blessed to be a part of this huge giving community.  Part of the strength I draw on every day is living vicariously through the tribe I've come to know.  I'm a huge believer in leaving a mark – that means daily giving, documenting and making tangible gifts and cards for friends and loved ones.  There's no better way to do that than to be a maker and giver.  This is my first year participating in the Seasons Giving Blog Hop although I've surfed it for the last seven.  I'm tickled to be here.  Thank you, thank you, thank you for supporting this vibrant community.
Sit back with a cup of coffee because there are tons of giveaways for this years Seasons Giving Hop.  My giveaway for today was graciously donated by Spellbinders Paper Arts and I'll explain what it is at the bottom of my post.  Also at the bottom of my post, I've also included the names and links of all who are participating.


My name is Becca Feeken and I'm a passionate die designer; I create dies for Spellbinders Paper Arts.  I love sharing and talking and encouraging other crafters, I consider it therapy.  It's still a dream to be a designer and I love to create the unique dies I'm hankering to work with but haven't found yet on the market; so I create them :-)  I'm sharing my 2 favorite projects I made this year – a Christmas mini-album made with my newest collection.  One of my goals for 2018 was to create legacy gifts and mementos that I could be left out to remind me what a lovely year it was. I'm also sharing a card from my Die of the Month Series :-)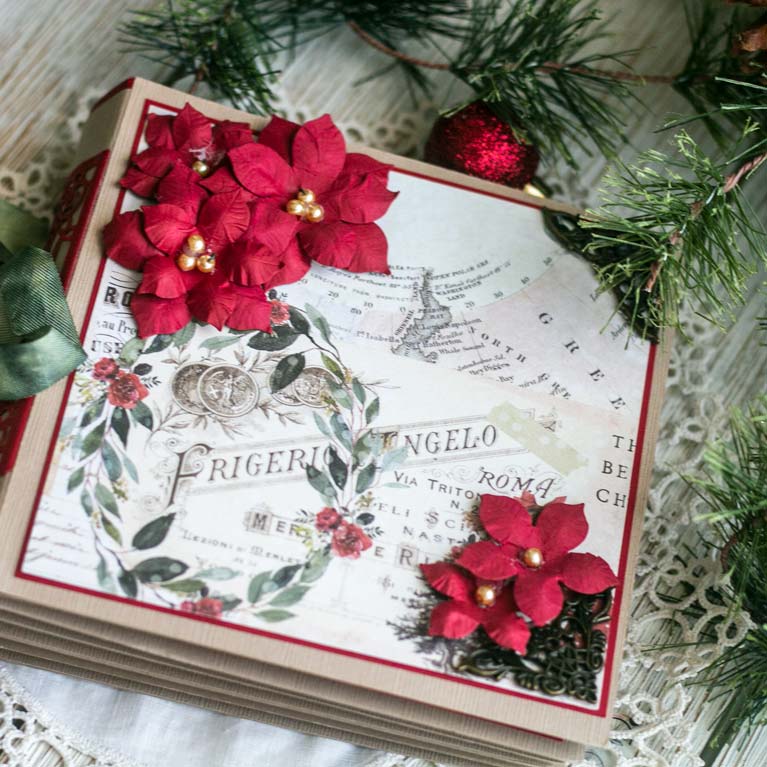 My mini album is made with my 3D Vignette Mini-Album Collection and all of the elements also work with 3D Vignettes. The dies on this project are currently at major retailers like Scrapbook.com and will be appearing on the Spellbinders website on January 10th.  This particular album is made using the Universal Spine, Decorative Spines and Edges, Woven Trellis Side Pocket and Grand Vaulted Cabinet – you can check them out HERE.



This has ended up being my favorite project this year because I've always wanted to dabble a bit in scrapbooking but the truth is, I'm a cardmaker that likes to keep mementos.  3D Vignette Mini-Albums does that in an achievable 6 "card-sized" pages.  I found that because this size is closest to the size cards I make, that I'm more inclined to fill the album with pictures of the season.  On the left side of each page spread, I tucked a large pocket to keep mini books and other memories.



This is one of the easiest cards I've ever made and one of my favorites for the year.   Pink, cream, and tan – it doesn't take much to please me and this covered all the bases.  It was made with the APG September Die of the Month found HERE.  Be good to yourself this coming year.  Be sure to go back and celebrate your creative successes and celebrate those things that stoked a fire in your creative soul.  It's really okay to love what you do and encourage yourself to do more.
What's up your creative sleeve for the coming year?  I hope you'll reach out and subscribe so that I can get to know you better.  Give me a shout…
Subscribe to Amazing Paper Grace
Facebook  – https://www.facebook.com/becca.feeken
Instagram – https://www.instagram.com/amazingpapergrace/
Pinterest – https://www.pinterest.com/BeccaFeeken/
Did Someone Say A Seasons Giving Giveaway?
The giveaway I'm hosting is a Spellbinders Glimmer Machine that was graciously donated by Spellbinders Paper Arts.  What is a Glimmer Machine?  In conjunction with your die-cutting machine and the heated based of the Glimmer Machine, you are able to transfer foil to many substrates.  Foiling is really a game-changer and the glimmer machine is one of my favorite toys.  It's a bit addictive and I'm tickled to be offering it.
In order to win, you must leave a comment on my blog on this post telling me what you are most grateful for this holiday season.
Comments will be open until midnight EST on Sunday, January 6th, 2020.
The randomly pulled winner will be posted at the top of this blog post on Tuesday, January 7th, 2020 – you may want to bookmark it :-)
The winner will have 2 days to claim their winnings.  After two days another name will be pulled.