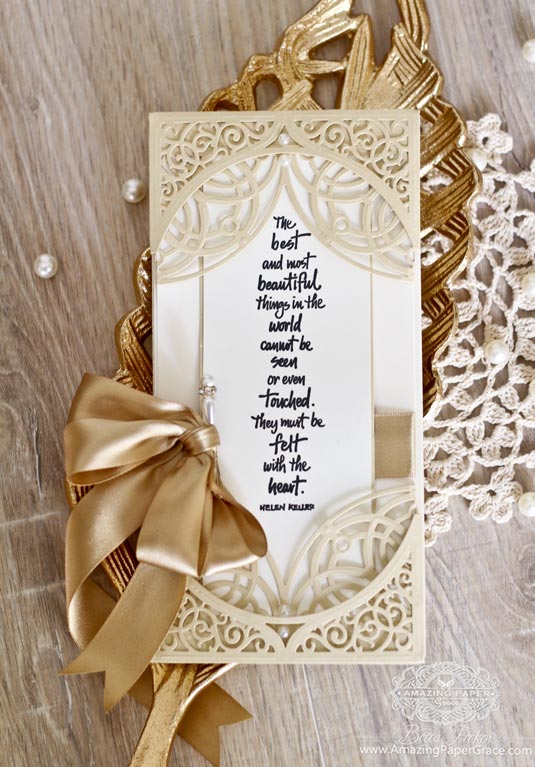 Hi there friends or rather hey, yall!  Today finds me creating at my desk, I'm editing dies, creating new dies and much, much more!  I have to say these little dies are almost like my children.  I hope, dream and pray over them and then try to breathe them to life; some times it requires a little push and a little persuade to get my more unique designs out there.
That's quite the case with the dies I'm showing today, they were put on the back burner for a couple of years and released in January 2015. Today when I surf the internet I see quite a few die designers are coming out with dies very similar to these unique elegant pocket card fronts, so it warms my heart when some of my more unique ideas take root!
Today I'm sharing a card made with Spellbinders Swirl Bliss Pocket and Spellbinders Arched Elegance Pocket.  I pulled them right out of my stash today because I'm sad to say that one of them has hit the discontinue list – when it is gone, it is gone (in spite of my best pout and sad puppy dog eyes). Spellbinders Swirl Bliss Pocket is the one that is going away. I will continue to use it here, but I'll tell you honestly, if this hasn't hit your collection, you might want to think about it now.  Why am I telling you this?  Oh.my.goodness – if I had a dime for every time someone asked me to help them find a die that was no longer available….  Because so many dies are scheduled to hit the market, quite a few of mine are being retired (that retired word sounds better doesn't it?) so going forward, I'll identify those dies as I use them so that you can get them before they are gone…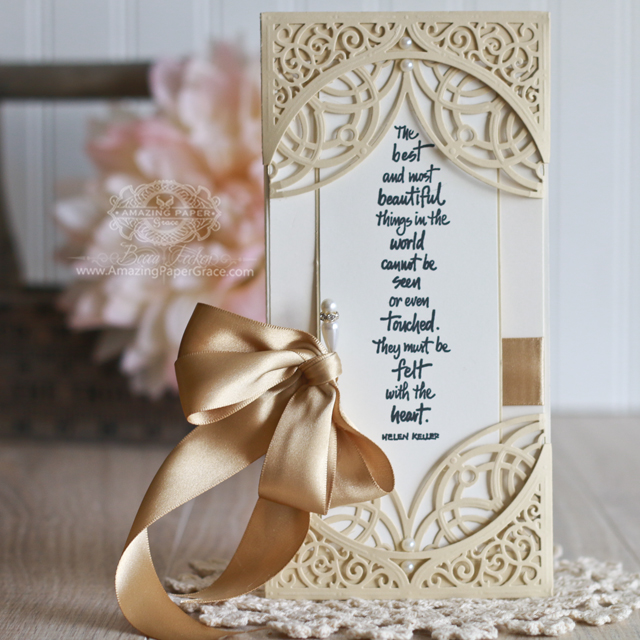 So you see, today my card is really, really made with love – I feel like my daughter is going away to college or something and I have to lay some extra love on her, lol!!  I've never done this before – I layered double pockets on a tall card!  And, I don't think I've ever been able to say this, but it's a flat card.  There is no foam tape anywhere on this card!  Okay, so how did it go together.  First of all the card size is 4-1/4″ x 8-1/2″ .  Since you would normally need 17″ paper folded in half to get the card base, I used the hinged method I developed HERE but, I constructed the pieces of the card then glued the hinge together at the end.  That way I could fold the tabs for the pockets over the top edge first.  No worries, I'll explain it all here, so here we go . . .
 For my hinged base I cut a piece of card stock 4-1/4″ x 8-1/2″ and a piece 4-1/4″ x 9-1/2″ from cream card stock.
 Score the 4-1/4″ x 9-1/2″ piece 1″ from the top and fold with the 1″ flap facing up, set aside.
 I cut two of each pocket from linen card stock .
 Using the card base panel cut to 4-1/4″ x 8-1/2, I glued Arched Elegant Pocket flap even with the top and bottom of the card.
 Then I folded Swirl Bliss Pocket over the top and bottom with the flap adhered to the back of the card.
 Stamp sentiment on a cream panel cut to 2-5/8″ x 7-1/2″ – mat with your linen card stock.
 Add ribbon around front panel and insert stamped sentiment into upper and lower pockets.
 Adhere front of card to the piece previously set aside that has the 1″ flap facing up.  That gives you a hinged card.
 I cut a piece of card stock equal to the size of the front panel to go on the inside of the flap to hide my ribbon.
P.S.  Don't you just love this Helen Keller sentiment?


Stamps: Inky Antics  
Paper:  Neenah Classic Crest – Natural White – Cover – 80lb smooth, Papertrey Ink – Antique Linen
Ink: Colorbox Chalk Ink – Charcoal
Accessories:  Spellbinders Swirl Bliss Pocket, Spellbinders Arched Elegance Pocket, Satin Ribbon (Gold) – The Paper Source, Recollection Pearls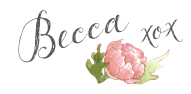 I'll be back soon!!