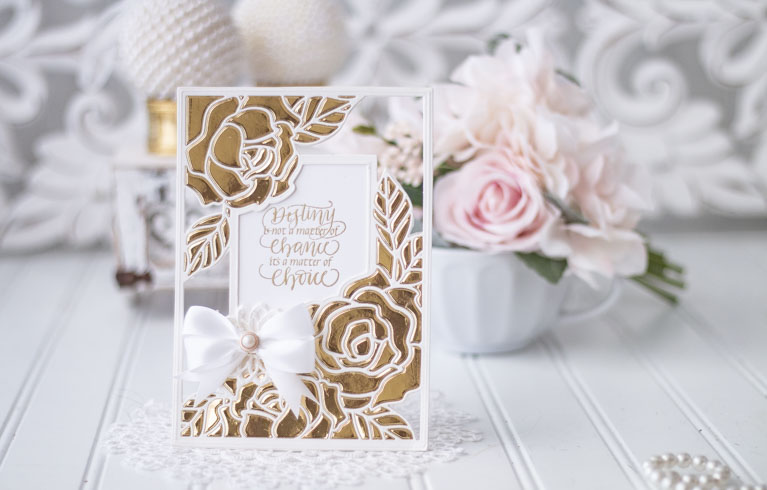 Oh my, it has been nearly a month since I've spoken here!  I looked up to see that it is time for an update.  Time flies when you are in the middle of planning your holiday but I'm tickled to return to share a new Die of the Month.  As you know, designing a die that releases every month keeps me on my toes thinking about beautiful dies that invoke different techniques and outcomes.  Today I'm pleased to introduce the Amazing Paper Grace December  2020 Die of the Month – Rose Garden Promise.
Some links may be affiliate links, buying products through these links generates a commission at no cost to you
Inspiration for Rose Garden Promise
Last month we swooped in just in time to give you a lovely Christmas die that you could still create with to prepare something before Christmas.  This month, we're looking at turning the corner and going into a new year.  I don't know about you, but it's a time where hope for the upcoming year catches my thoughts.  Just barely into winter, my thoughts always turn to Roses in December.  Last year in December the die template was a lovely rose template and again this year, I'm tickled to keep up with the tradition and give you roses again.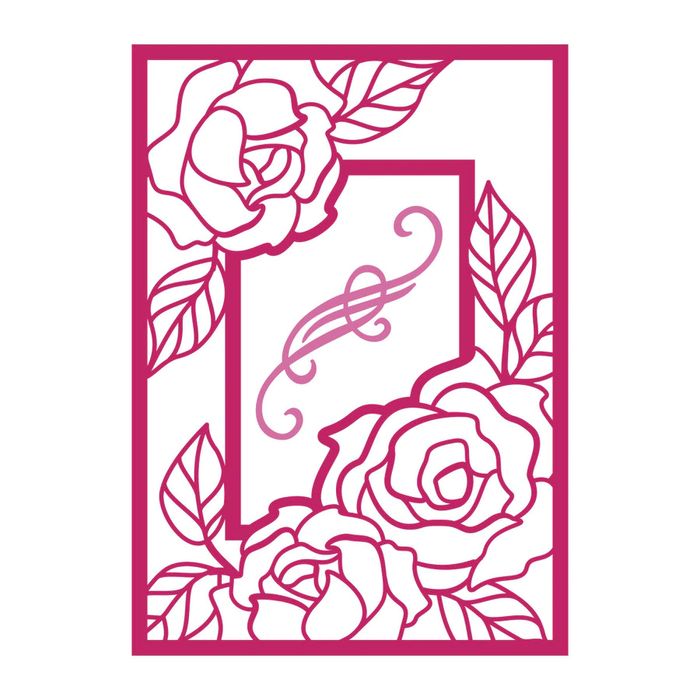 If you want to learn to make a card that is crazy simple but looks like you fussed, watch this video:
Pop Up Rose Garden Promise Samples
Once I sat down to play with this die and make samples, my head filled with so many ideas about how to put together a card.
I think the gold and cream is a classic but also loved the black for the punch of color.  This is truly a 10 minute card!!
I was excited to pull out my Copic Markers and flick on some faint color to barely color the roses.
After I was done flicking on color, I overlaid the entire arrangement with the white outline.  This is the same concept I show in the video.
This version was a no-brainer by dabbing on some watercolor.  If I can do this anyone can do this because I'm a classic overthinker.  Well, I didn't have to think about this, just color!!
I created the background by bumping my watercolor brush against my hand so that purposefully, droplets would fall.  Since I tend to be accident prone, I have to admit that it's satisfying doing that on purpose.  Afterwards, I stacked four of the outlines adhering each with white glue.  The end result gives a lot of depth and makes the die cut framing very sturdy.
Join us!
That's it for me today!  I hope you like Rose Garden Promise it was so fun for me to play with and I hope you do too.  In the meantime, please join me and the Creative Team where we are sharing lots of tutorials in a place that we can chat and answer questions –  the Amazing Paper Grace Creative Encouragement Facebook Group. 
Speaking of the Creative Team, as always you know we have something up our sleeves, you can see more inspiration with Rose Garden Promise in our blog hop!
Feel free to reach out to me!  Here's where you can find me.
Let's Chat                    – Find Becca Feeken on Facebook!
See What's Up            – Follow Becca Feeken on Instagram!
Kick Back and Learn – Watch Becca Feeken on YouTube!
Get Inspired                – Amazing Paper Grace CREATES on Instagram


Bless you all as we find ourselves perpetually in a new place every month.  Holidays during the coronavirus can be daunting but I think that armed with technology and hope, the holidays will turn out okay.  Shopping online and being together via Skype isn't sad, it's a triumph.  I applaud our collective spirit and hope that no matter what you savor the coming holiday.