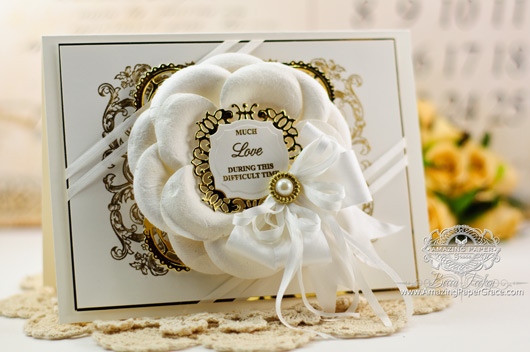 Today I want to share some news about an important date that's coming but first a sympathy card to add to your portfolio.  I always say easy and truly this card was less than an hour from concept to finish.  That means, when you go to make it, it will be lickety split.  This puts me a card ahead in my stash – a sad occasion to be ready for but I have to admit that sometimes the weight of the occasion puts a damper on my creativity hence the inspiration to work ahead.  The simplicity of this card centers around this gorgeous flower from the $1.00 bin at Michaels this week.  The flower is huge so I divided it in half by pulling out the center to use later — that left me this large center which is coincidentally large enough to nestle a sentiment.  For the card background I'm using JustRite Papercraft Baroque Frame Background and small stackable sentiments from Magnolia Vintage Labels Seven.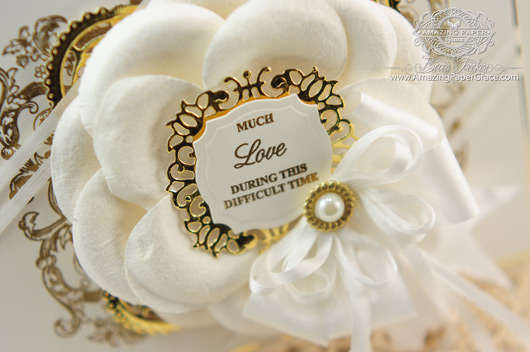 To highlight the gold embossing on the background and make the flower pop,  I used Spellbinder Luscious Labels One cut with gold foil.  The inside of the flower was large enough to cradle Spellbinders Decorative Labels Thirty Four and my sentiment stamped on Spellbinders Labels Thirty Four.  I finished off with a double bow and a skinny loopy bow on top.   Hint:  I used triple layers of foam tape to raise the sentiment up level with the petals of the flower.  Whew, that's it!
An Important Date is Coming!!

You will be thrilled to know… that all the new die templates by Spellbinders are getting ready to ship!!  I know, right?!!  Well, that's *definitely* cause for a celebration so please promise me you'll be here on Monday, March 31st, and if you peek you'll see my post up before 12:00am….  Now that your dies are being put in the mail, I want you to be ready for your next project.  That means I'll have a large step-by-step tutorial for you to break those new dies in.  It's an easy project similar to those you all always request but the wonderful thing is – it will show you yet another way to use those new dies!!   It will be a week of inspiration so clear your desk :-)  What celebration would be complete without a contest?  Yep!  Bring it!!  You can win dies, so get yourself over here on March 31st!!
I love you guys and can't wait for you to see what I've been working on for you!!  Eeeeek, I'm so excited!!!  Three more sleeps!!