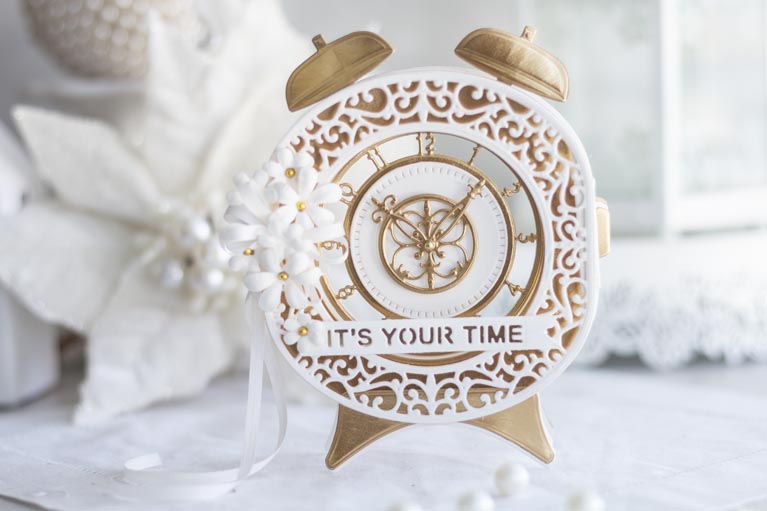 Sweet Crafty Friends – you know what time it is!!  It's time to introduce a new Die of the Month!!   Please welcome The Amazing Paper Grace November 2022 Die of the Month, called Pop Up 3D Vignette Alarm Clock.  With the end of the year approaching, I thought that Time would be a great theme coming into a new year.  As a result, now I have a way to celebrate all the occasions where "time" is a reference.   Happy New Year, retirement, marriage, encouragement, baby birth time, and awards come to mind.
Some links may be affiliate links, buying products through these links generates a commission at no cost to you.
There are so many occasions when time is a factor.  The time/date your baby was born, the time when someone finally gets a reward, the time/date you started dating, the time/date you got married, the time/date you retired and I could go on.  With the 3D Vignettes it's a great way to show a dimensional thought, in a way that folds flat for a card!
Hint:  Don't forget the back of the vignette!  It's an excellent place to put the date or to write a sentiment or to attach or insert a small enclosure note.
I also wanted to create a frame within which you could put anything you want.  There's a lot of sweet dimension in this set.  As a matter of fact, it's just calling out to be a shaker card or a frame without the clock.  Stay tuned for inspiration below:



You do realize, you could put virtually anything inside this frame, right?  Yep, the Let It Snowman A2 Card Front from my Christmas Flourishes Collection is a great fit as well as all of the motifs in the Seasonal Motifs Collection.  The white filigree is the top of the Tiara Trifold.  This just makes me smile!



And, just as easily – this clock goes flat so that it can grace the front of a card! I'm using the Hemstitch Rectangles on the card base.



What a way to ring in the New Year!



For instance, see how easy it was to Christmistify (ha-ha a new word I just made up) a card using the clock pieces. This Christmas card features the gorgeous Joy Holiday Flourish in red atop the Cannetille Rectangle in gold.



Last, but not least – this clock looks lovely on the front of a notebook. Fluted Rectangles is in the background.
In this month's video, I show you step by step, how to construct the Pop Up 3D Vignette Alarm Clock.  Additionally, I also show the best way to cut the dimensional layers for stunning effect.  Click the link to have a look-see:
Gallery of Ideas for the Pop Up 3D Alarm Clock



Unique, isn't it?  I hope you can think of a ton of uses for the The Amazing Paper Grace November 2022 Die of the Month, called Pop Up 3D Vignette Alarm Clock!  Hey, and if you are curious about what I've been up to lately in the die cutting design world you can check out my recent collection with Spellbinders.
To learn more about all things Amazing Paper Grace, you are officially invited to join our private Facebook Group Amazing Paper Grace – Creative Encouragement Facebook Group.  We have a library of papercraft tutorials and a lovely community.  I hope you join us there!
Feel free to reach out to me!  Here's where you can find me.
Let's Chat                    – Follow Becca Feeken on Facebook!
See what's Up            – Follow Becca Feeken on Instagram!
Kick back and Learn – Follow Becca Feeken on YouTube!
Get Inspired                – Amazing Paper Grace CREATES on Instagram


Hoping you love what you're making on today!!  I've been crafty lately and it feels good!!