Hi there friends!  One word – Holiday Cheer! Just Click the link and prepare to be amazed!!  Today I wanted to give you a new Sneak Peek of one New 3D Holiday Vignette and this is a link to all of my new Holiday Vignettes.  They are cropping up in lots of places so no worries, I'll tell you where you can get your inspiration fix!
First of all, yesterday Spellbinders had a huge event online where they launched all of the holiday dies and stamps for 2019 – Vignettes included.  The offering is so huge and there is surely something there to please everyone from dies, to stamps, to glimmer to supplies to new tutorials.  This year there are bundles galore and some of my dies are even worked into bundles.  So much to see, the link to watch the Launch Party is below.
Also, the Amazing Paper Grace Creative Team will be showing you each of the new designs, in detail, in a blog hop that is happening tomorrow – August 12th – beginning at 9:00am Central Time.  There are blog hop prizes so I hope you will join us to see some amazing creations.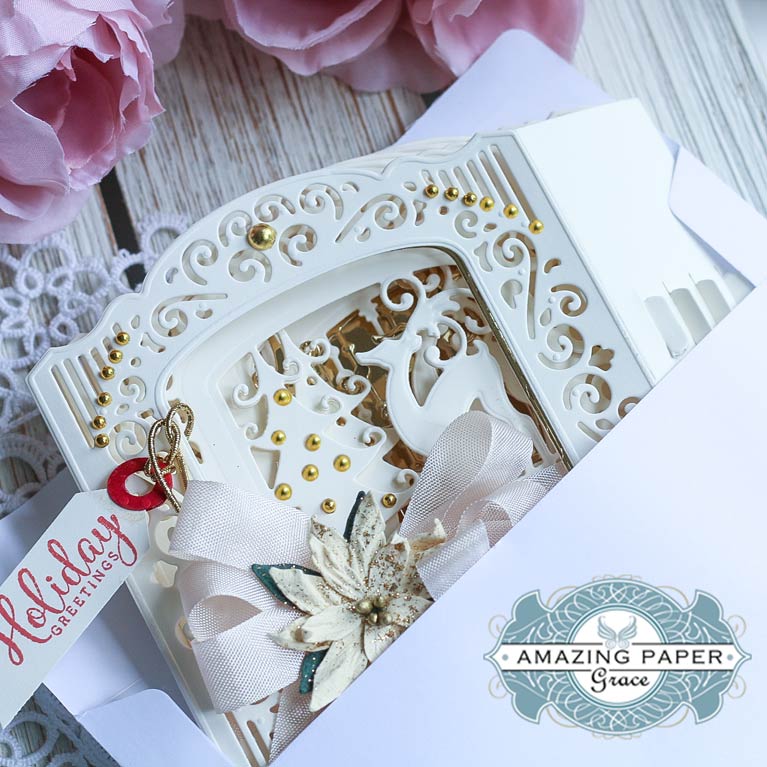 I so love that this design folds flat to tuck into an envelope!
In the meantime, I was so blessed to be able to participate in the Holiday Cheer Launch and you can continue view all of the festivities here.  I'll warn you – it's four hours of tutorials and product showcases.  If you want to jump my tutorial, head right over to the 1 hour, 49 minute mark (1:49) but be sure to double back because there are other designers showing some of my other dies and everything that comes before is absolutely thrilling!

Here is some more eye candy of one of my favorite new sets.  The insert is the Reindeer Prance Layering Set and it is layered into a new 3D Holiday Vignette called the Grand Holiday Cabinet.


Thank you for stopping by, I hope to see you tomorrow!!