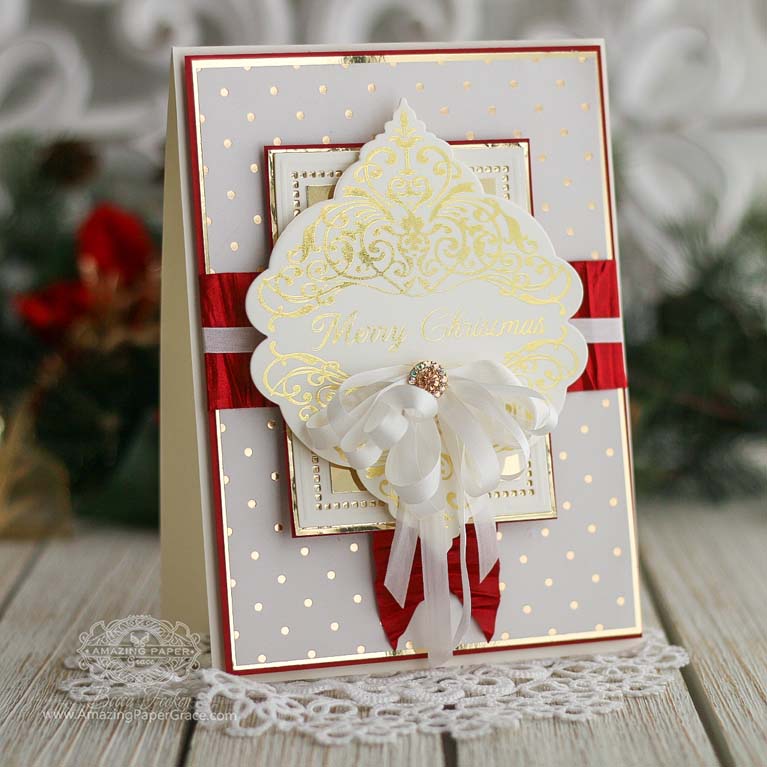 Way back when 3D Vignettes were introduced, messages started to come in by crafters begging for the same thing, but in Christmas.  You also asked that we keep supplying new inserts.  Well, your wish is our command!  Introducing 3D Holiday Vignettes plus new Glimmer designs.  If you are not familiar with these popular dies, keep reading for lots of information.
Hi there, today I'm sharing my newest collection featuring new Vignettes for the holidays and the new Holiday Glimmer Designs will blow your socks off.  So…..
What is a 3D Vignette?
A 3D Vignette is a dimensional card that folds down flat.  It has a front layer, a back layer and several in between layers that are held stable by slotted side pieces.  These layers allow you to build depth into a diorama or tunnel type card.  We take all of the guesswork out of the equation by giving you mix and match layers, including sentiments to stack into a Vignette.  To date, we've released 3D Vignettes and Shadowbox Vignettes collections.
What's more, you can use your own supplies to fill them up as well.  The bonus is that each of these layers also works for your other types of cards you make.  As a budget crafter from day one, I thought it was very important to keep the "mix and match" sensibility alive in Holiday Vignettes so that you get a lot of bang for your buck.  What does that mean?
1.  These vignettes are interchangeable with your other vignettes.
2.  Holiday Designs can be used for non-holiday designs after the season has passed.
3.  You can use these elements to make flat, stand-alone cards too.
About 3D Holiday Vignettes
Layered Die sets were introduced with 3D Vignettes and people quickly realized you could use them standing alone in cards or you could use them layered together in a diorama.  Shadowbox Vignettes continued the tradition and as you might guess, these new layering sets can be used in both Shadowbox Vignettes and 3D Vignettes.
3D Holiday features three new facades (each including a sentiment) using the same shapes that came in the original 3D Vignettes – Round (snow globe), Arch, and Cabinet.
In addition, there is a new layering set for each – a round, an arch and a shape to fit the cabinet.  Join us as we give you a full-on look at all of the new sets.
My Cards For Today
First up is GLP-120 – Christmas Damask Jubilee 
Here is what the plate actually looks like.
For my project today I made a Christmas Card and a matching box.  Easy peasy!!  In fact, there are so many things I love about this plate that I need to list them, lol!!  Like:
This plate can be used after Christmas.
There are three sentiments that with it that can be used separately or with the Damask Plate
After the Holidays it will be perfect for a wedding, for menus or for any other sentiment that fits the aperture
Oh, and it just coincidentally happens that S4-994 Marquise Diamond Pendant Die has the same shape as Damask Jubilee and will cut the shadow layer as I have done here.  So if that die is already in your stash, it will be well in your interest to consider Damask Jubilee, just sayin….  
Blog Hop

Be sure you leave a comment on this post and every Creative Team Members and each Guest Designers post for a chance to win an Amazing Paper Grace Die from any previous collection from Becca's Die of the Month offerings.
There are four dies that are being given away.  One name will be randomly picked from comments left on the combination of our eight blogs on the Introducing 3D Holiday Vignettes post between August 12 and August 18, 2019, at midnight US Central Time.  We encourage all of our international friends to participate!  The randomly selected winners are here.  (All giveaways for this hop are managed by and the responsibility of Amazing Paper Grace).
We are tickled to have two guest designers joining us for the hop!  Click on the links to each member to be inspired across a broad range of talent:
Thanks so much for joining us for the Introducing 3D Holiday Vignettes Blog Hop.  Leave a comment to let us know your favorite.  Is it the new Dies or the Glimmer?  There is much more inspiration in store for you today and for the weeks to come.