Top of the morning to you blog friends!!  You can't see me smiling but just know, I am. Although I haven't been around very much there's lots of behind the scenes work that I needed to do, so I'm a happy camper when I can share stuff that's been sitting in a pile in the corner of the room.  Today we're introducing Spellbinders Custom for JustRite – Lacey Tiers; its one of the dies that sold out with my Kit Club and people wanted more so JustRite brought them back.  The cool thing is, it is available right now and it's not bundled with anything else.   I wanted to share card making ideas for an anniversary card using Lacey Tiers, Spellbinders Timeless Rectangles and uses a sentiment from JustRite Papercrafts called Large Elegant Sentiments.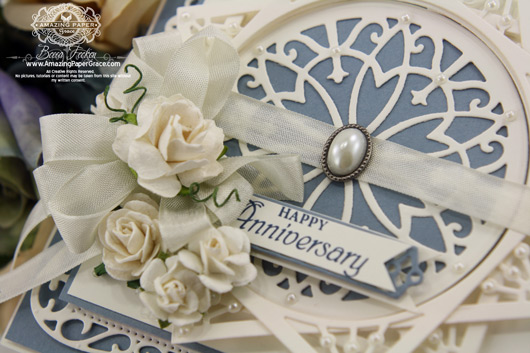 Here's your Step-by-Step Recap: From the bottom up, Card base 6-1/4″ x 6-1/4″, foam tape, blue matting layer 6-1/8″ x 6-1/8″, die cut layer using 2 Timeless Rectangles, foam tape, blue matting layer 5″ x 5″, cream matting layer 4-7/8″ x 4-7/8″, foam tape, die cut frame using three Lacey Tiers borders staggered, in center die cut layer using circle left over from Lacey Tiers Border and circular motif from Lacey Tiers stacked.  Add flowers and seam binding.   Banner is hand cut and lattice element from Lacey Tiers is sandwiched in the middle.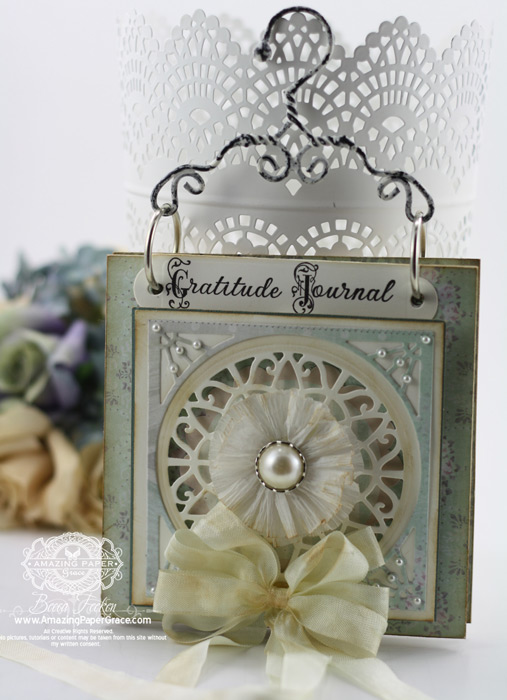 My next project is a gratitude journal….if you received this kit, then this was one of the projects you made.  It features Melissa Frances products and is essential a decoratively covered book with journaling pages inside and measures 6″ x 6″.    It's held together by two metal rings and threaded on a sweet vintage metal hanger.  The front cover made using Lacey Tiers and the sentiment is from Filigree Journal Covers.    You get that stained glass like motif when cutting with only the large round die.  I layered the border motif on top and popped this combination up on foam tape and a gathered crepe paper flower on top along with added a bow and pearls.
There are lots of wonderful samples for you to see today.  I hope you can pop in and visit these ladies.
Thanks so much for stopping by.  I hope you take a couple of minutes today and treat yourself to getting crafty :-)