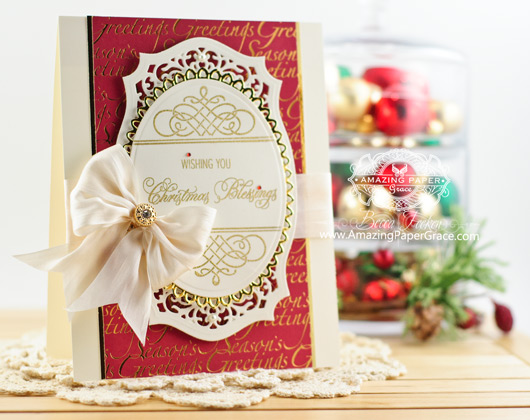 Hi there blog friends!  My title is a little bit off :-)  I very briefly introduced Elegant Christmas Swirls, but what I didn't explain is that with the Mix and Match sensibilities of this set, you can make a serious dent in your assembly line Christmas card making!  The challenge is set, the gauntlet is thrown down in this 'Mission Not So Impossible'.   I challenged myself to create a moderately dressy Christmas Card that could be reproduced in assembly line fashion, that didn't break the clock or my wallet.  That's where Elegant Christmas Swirls comes in, did you see all the possibilities?  Well, just to help you on your way I've created a tip sheet in .pdf format to show you options for using the set.  CLICK HERE TO DOWNLOAD then click on the disk icon to save.
I created a basic card and duplicated it six times by simply changing out the design paper and a couple of minor embellishments (while keeping it simple).   I do make lots of Christmas cards through the season, some are much more elaborate but for the number that I need to make, I have to do something like this to get though my list.  By all accounts a simple card!  I used Spellbinders Adorning Labels Twenty Five, Spellbinders Labels Twenty Five, Spellbinders Grand Decorative Ovals One (great substitutions are Floral Ovals and Elegant Ovals) and Spellbinders Classic Ovals LG edited correction:  Spellbinders Grand Ovals.
Here's how I made it – step by step:
Create a card base with cream card stock that measures 5-1/2″ x 7″.  (Card bases are made with two pieces of 5-1/2″ x 8-1/2″ paper scored, trimmed and glued as in this Hinge Video.)
Cut 2 strips of gold paper 1/4″ x 7″.  With chosen design paper, cut a panel 4-1/4″ x 7″.  Attach a gold strip to the longs sides of panel.  Adhere panel to card base.
Wrap an 8″ piece of ribbon around card front with  opening of ribbon in front – tape in place.
Cut/emboss Adorning Labels Twenty Five at the same time nested with Labels Twenty Five.  Adhere to card base with double foam tape.
Cut/emboss Grand Decorative Ovals One and attach to card base with foam tape.
Cut/emboss Classic Ovals LG (edited correction) Grand Ovals, stamp with sentiment from Elegant Christmas Swirls then adhere directly to card base.
Add bow and pearl/crystal/button embellishments.

 
CRAFT SUPPLIES I USED 
Rubber Stamps: JustRite Papercraft – Elegant Christmas Swirls
Craft Paper: Neenah Classic Crest Natural White 80 lb, Gold Poster Board, Assorted Design Paper
Ink: Versafine Onyx Black, Versamark, Clear Embossing Powder, Gold Embossing Powder
Accessories:  Spellbinders Adorning Labels Twenty Five, Spellbinders Grand Decorative Ovals One, Spellbinders Classic Ovals LG, edited correction: Spellbinders Grand Ovals, May Arts Silk Ribbon, Gold Buttons, The Paper Studio Gems, The Paper Studio Pearls

Thanks so much for hanging out with me!  These cards along with the other Christmas cards I did earlier in the month will put me well on the way to conquering my list.  So I am really curious, when you make your cards do you change up and create several or do you stick it out and create all identical cards?
Question Parking Lot:
1.  Claire Horvath, comment #17,  Sarah, comment #18  and Ruthie Armstrong, comment #30 asked about the paper and die element used on the third card shown.
The die is one I designed called Heirloom Flourish Two and it can be found HERE.
The gold paper came from my stash, it is one of my favorites from K and Company is likely retired :-(  I'm hopeful that there's something similar out there that's current.
2.  Deborah Adams, comment #21 asked where I get the gold paper I frequently use.
Deborah, gold (mirror board) paper seems to me to be hard to find in the US so what I do is go to the poster board/art  paper department in Hobby Lobby.  This is a piece of gold poster board that is sold in a large size – I think 24″ x 36″ and runs about $4.99 (before 40% off coupon).  As soon as I get it home I cut it down into a manageable size.  I use lots of this  :-)
3.  Patricia Tumpkin, comment #28 along with Kelly Flaherty, comment #50 and March Schmidt, comment #32 asked about the papers used for each card.  I love all Christmas paper but traditional ones seem to be my favorites but papers go off the market long before my wallet can afford to buy more.  Luckily some of the manufacturers keep producing or they can be picked up on Amazon.com.
My goal with these cards was to show you that with a basic design and switching around some stamps, you can use your scrap paper and achieve many, many different looks.  Even the newer versions of paper will work well on this card.
I'm pretty sure these are retired or only available through channels like amazon.com:
Card 1:  The Paper Studio (Hobby Lobby) – Christmas Traditions
Card 2: Still looking – will fill this in when I locate the paper pad
Card 3: K and Company – Christmas Cheer Specialty Pack
Card 4: Die Cuts With A View – Holiday Collection – The Christmas Stack
Card 5: Unknown – came from my stash
Card 6: K and Company – Christmas Cheer Specialty Pack