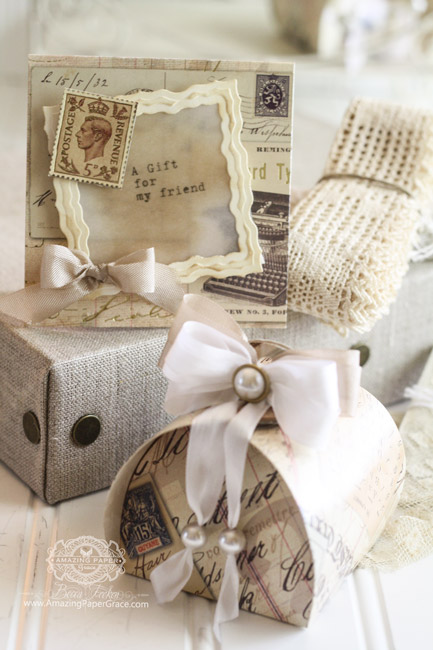 Hi there friends, I just wanted to show you something instant I did, that made me smile. I swap a few items among some local and some far away friends and don't always look to create from scratch when I'm preparing the gift. I've found that if I can put it together and get it out the door into the mail, it makes them just as happy as if I had toiled over it for weeks.
I'm sharing buttons and lace and was looking for something with a little theme to kick things into high gear. At Tuesday Morning I found packages of printed folders that are made from a delicious weight cardstock that is delightfully double-sided, so I cut boxes from them. There are 12 file folders in the package from Punch Studios and these used feature writing, typewriters, typewriter keys, post cards and other vintage ephemera. Eek, I have an Eiffel Tower set of folders too so I'm studying what I might make with them.
From one folder I cut two of the fold over boxes – Spellbinders Keeping Tabs Steel Rule Die. I simply added a bow to the top of the box. There was enough remaining scraps to fold over two panels to make enclosures cards and even cut out an element or two for embellishment. The frames are made using Spellbinders Fairmont Labels filled with vellum. I typed on the vellum with my trusty portable typewriter and distressed it all a bit so that it would match.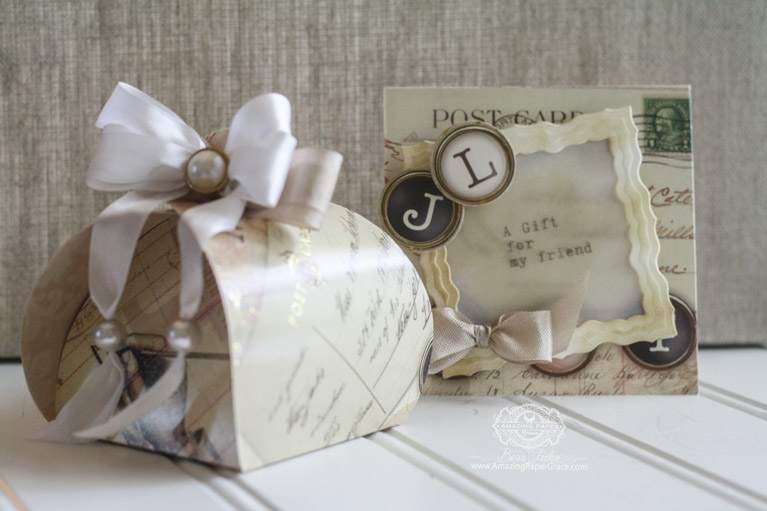 Below are both of the enclosure cards that are about 3-1/2″ square.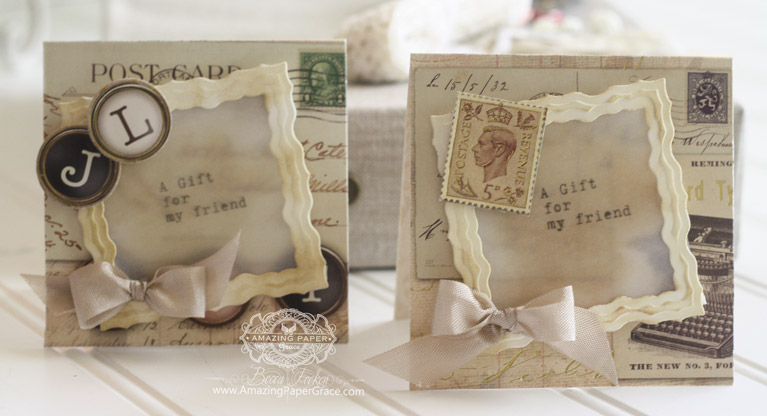 The two boxes go together without tape or glue, they are self locking so I simply adhered bows to the top.  They are 2-1/2″ x 2-1/2″ x 3″ tall.



To figure out how I wanted to position each box to get the motifs to fall where I wanted, I cut one box from plain cardstock and overlayed to get the rough position.



Lol, looks  like a mail run is in the cards for me next week. :-)


Rubber Stamps: None
Craft Paper: Punch Studio – File Folders
Ink:  Ranger Brushed Corduroy Distress Ink
Accessories:   Spellbinders Keeping Tabs Steel Rule Die, Spellbinders Fairmont Labels, Satin Ribbon, Pearl Brads


Thanks for stopping by!!