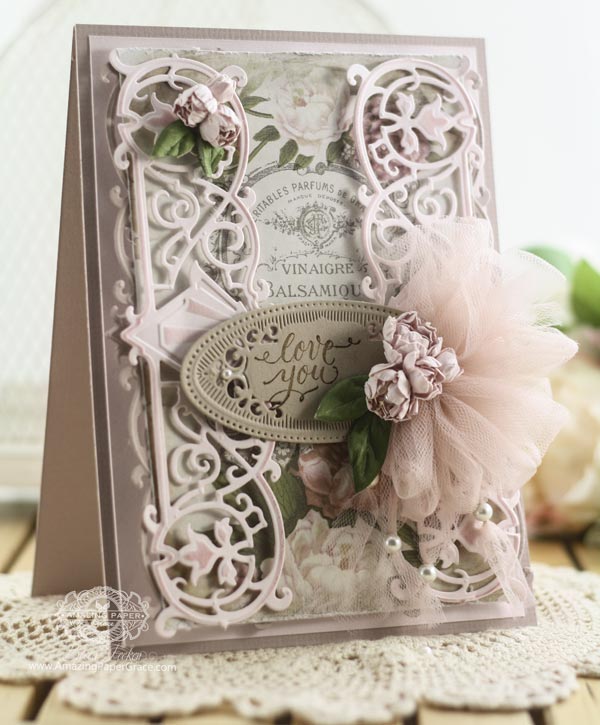 Hi sweet friends, another card to share today with a little bit of a vintage shabby feel.  It was one of those cards that when I thought I was done, I wasn't done and my mom kept saying – 'Needs something else'.  Who would have thought she'd sit and craft along with me, but she has to fetch absolutely everything I need.  I can hardly remember where things are so it's a hoot with me describing its last known location.  Since she's a crafter but not a papercrafter, I suppose sending her to hunt is just like when my Dad would send me to his tool shed for a specific wrench.  Didn't he know, all wrenches are the same?  Today I picked a lovely border to work with – Spellbinders Deco Duality.  This is an easy card that's easily replicated.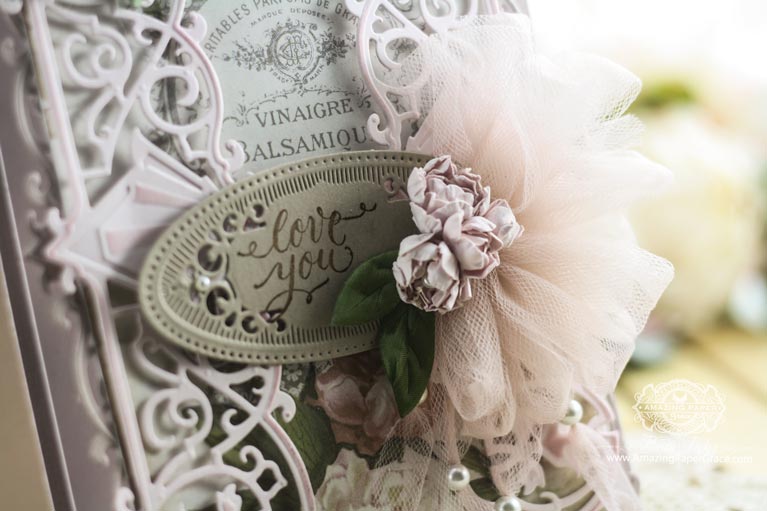 Walk Through on How to Make Card
Base
The card base is 5-1/2 x 7-1/2.
Focal Panel
I selected Spellbinders Deco Duality to frame the sides of my card and used the other side of the die template (peeking out from underneath my layer)  as a fabulous border.  The borders were all stenciled through the die template just to add some visual interest.     I used a delicate sentiment from Quietfire Designs – Just for You Set and stamped it on Spellbinders Radiant Rectangles.
Embellishment
The flowers are made using Spellbinders Cinch and Go Flowers – you can see a tutorial for these quick and easy flowers HERE.  The final touch is bow made with the 2.5″ tulle you can buy on rolls at the fabric store.  I created a small cluster of flowers using the three smallest petals from the set for each flower.
About Day of Giving Friday
Every Friday it's my pleasure to give away a card.   The card goes to a randomly picked reader (worldwide) who leaves a comment in our conversation. Want to know more about Day of Giving, here's a link to my FAQ's just check out #11.  You can check to see if your name is on the list of winners HERE.  For your comment:  What are you grateful for today?


Rubber Stamps: Quietfire Designs – Just for You Set
Craft Paper: Bazzill
Ink:  Ranger Brushed Corduroy Distress Ink
Accessories:  Spellbinders Deco Duality , Spellbinders Radiant Rectangles, Spellbinders Cinch and Go Flowers, tulle, pearls


Have a wonderfully creative weekend!