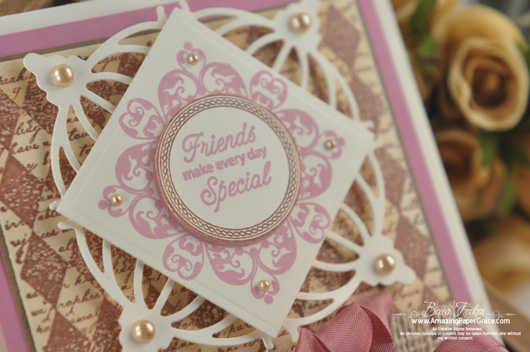 Good morning friends!  I was looking for something different, so I flipped through my die templates for an idea.  I landed on a die that I had only used once or twice but I thought it would make a beautiful addiction to my card.  Can you guess which one?  You might even have this die template, and if you do, who knew it could do double duty, lol!!    My card for today features yet another new set from JustRite Stampers called Your Special Day.  The background features a new JustRite Stampers background stamp called Harlequinn Script,  that will get a lot of mileage with me!!

I edged the bottom with Spellbinders™ Classic Petal Egeabilities and a decorative insert from Spellbinders™ Classic Ric Rac Edgeabilities.  For my stamped motif I used Spellbinders™ Classic Squares SM and after stamping the motif again in Vintage Sepia, I trimmed away the outside leaving the circle and border – you know, stamping surgery! 
I finished off with some taupe pearls and a small bow (figure eight loops) made on The Peg Bow Maker with 5 wraps on the 2 1/2 inch width setting.  The bottom layer of the medallion on my card is made with this die template.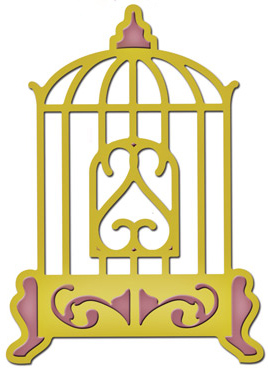 I cut the die template, Spellbinders™ Bird Sanctuary, four times and cut them all off across the top, a quarter of an inch underneath the beam that goes across.  Then I cut a square out of scrap paper and attached the bird cages on each side of the square.  Cover the scrap paper square with the next layer of your medallion. 
Lol, who knew?  

SUPPLIES I USED
Stamps: JustRite Stampers – Harlequinn Script Background, Your Special Day
Paper: Neenah Classic Crest Cream 80lb cover, Bazzill
Ink: Colorbox Chalk – Pastel Pink, Versafine Vintage Sepia
Accessories: Spellbinders™ Classic Petal Egeabilities, Spellbinders™ Classic Ric Rac Edgeabilities, Spellbinders Classic Squares SM, Spellbinders™ Bird Sanctuary, Recollections Pearls, Seam Binding, Clear Embossing Powder, Spare Parts Brad, burlap

Here are the JustRite Designers who have cards to share today.  Links are below:
JustRite Inspiration, Becca Feeken (you are here), Debbie Olson, Beate Johns, Sharon Harnist, Linda Duke, Eva Dobilas, Michele Kovack, Kellie Fortin, Heidi Blankenship, Barb Schram, Angela Barkhouse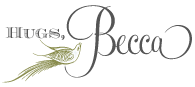 Don't forget, JustRite is having a retirement sale on all 1 5/8″ and 2″ products – they are $10.00 while supplies last.  Thanks so much for stopping by, I'll see you soon!!.