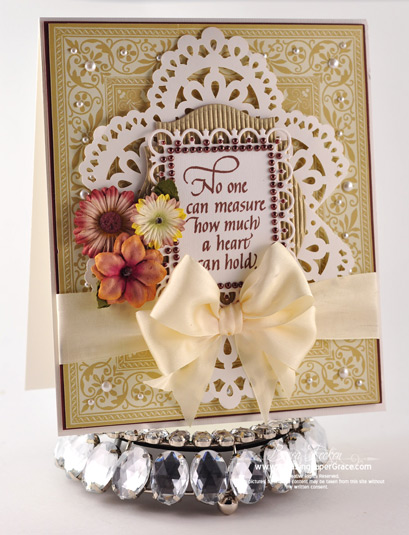 Hi there, as promised I'm back with the tutorial that shows a different way to make bows with the Peg Bow Maker.  It's really a nuance of other versions I've shown you but is something I figured out from frustration.  The way this is put together the loops come out separated so that you don't have to fuss with the bow so much.  Yes, I fuss, and fuss and sometimes fuss more!!   I put together a card yesterday that shows a six loop bow and the one on my card today is a two loop bow.  I'm equally at ease tying bows by hand but I love having the extra hand using the pegs.
So I'll tell you a bit about the sample.  I used another wonderful sentiment from Quietfire Design called No One Can Measure.  The base layer is a decorative card stock with pre-applied pearls by the Paper Studio (HL) that I cut down into fourths and pieced together to make a background.  The lacey paper is a piece of Anna Griffin (found at Michaels) and these were leftovers from another card – not a smidgen went to waste.  On top of that I layered Spellbinders Labels Eighteen cut from corrugated gold paper from K & Co. (found at AC Moore) then topped with Spellbinders Fleur de lis Rectangles.   I think I did a happy dance when I applied the Want2Scrap Nestabling right on top of that Fleur de lis Rectangle – they're so easy to get on and it looks like you applied each pearl individually!!  (If you click over to see what I used, I used the second tier of pearls out of the four tiers you get with the set).
The last thing I did was add a couple of flowers and tie on my Figure Eight Loops Bow!
ETA:  After a year online, video has been retired.   I spent a year perfecting the bows and making the techniques consistent and remade all the videos into a collection I'm really proud of.   This bow is made much differently now and can be found on the DVD that accompanies the professional looking version of the bow maker –  HERE.
SUPPLIES I USEDStamps: Quietfire Design – No One Can Measure
Paper: Anna Griffin, The Paper Studio, K & Co, Bazzill, Strathmore Acrylic
Ink: Colorbox Chalk Ink – Chestnut Roan
Accessories: Prima Flowers, Want2Scrap Pearls – Fleur de lis Rectangles (Mocha Pearl), Ribbon, Spellbinders Labels Eighteen, Spellbinders Fleur de lis Rectangles

Bless you all!  See you soon!!