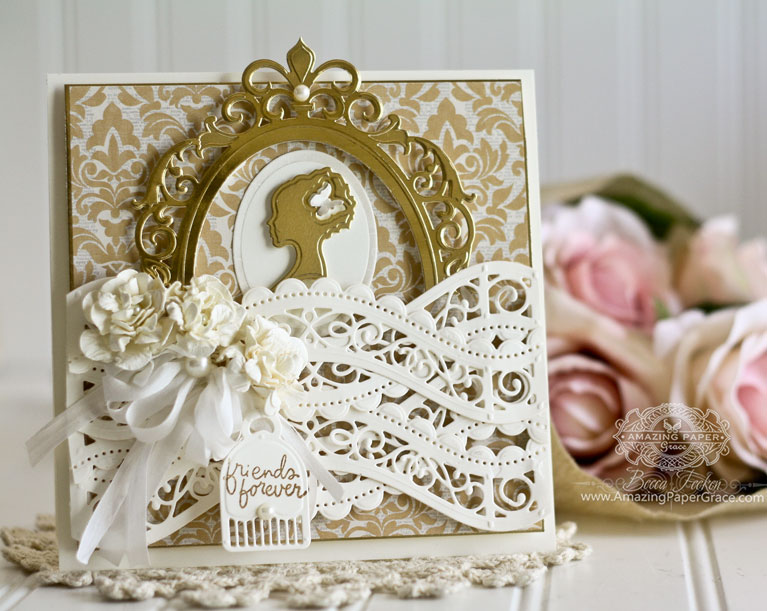 Hi friends, I'm peeking in from my catch-up crafting weekend.  It's not a pretty picture around my house, beds are unmade, dishes are in the sink and nothing got done after church.  One of the cards on my list is a card for my bestie – I haven't seen her in over a year and last week we carved out time for a girls lunch.  I think there was a glow over our table because we tied that table up for three hours catching up and I think we were talking so fast that no one would have dared interrupt us.  So I'm thinking about sending this card but there are a couple more on the drawing board.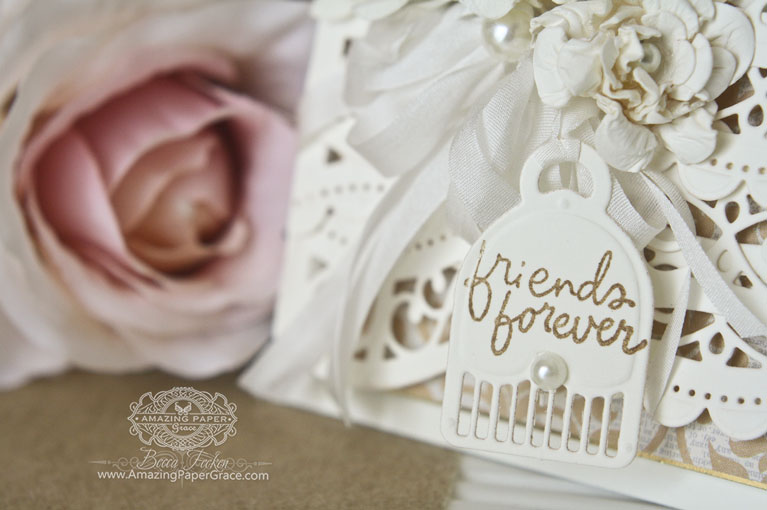 I decided to make my own background using border dies.  I cut four of Spellbinders A2 Curved Borders Two and simply intertwined sets of two of them by placing the largest humps in opposite directions and letting them fall naturally.  I love the look an it's a nice base for my card.  After that cut Spellbinders Fleur de Elegance and cut it in half.  Inside I placed a small oval from Spellbinders Classic Ovals LG and the lady silhouette shape from Spellbinders Silhouette.  To finish up a small bow and scrunched flowers using Spellbinders Cinch and Go Flowers (lol, I designed them and they are my favorite flower these days – you can see the tutorial HERE).  I hung on a small tag from Spellbinders Flourished Frame.


Rubber Stamps: Wordsworth – Friends Collection
Craft Paper: Neenah Classic Crest – Natural White – 80lb Smooth, Fine Touch Metallic Poster Board (Hobby Lobby), Vintage Finds – Teresa Collins
Ink:  Brushed Corduroy Distress Ink
Accessories:  Spellbinders A2 Curved Borders Two, Spellbinders Fleur de Elegance, Spellbinders Classic Ovals LG , Spellbinders Silhouette, Spellbinders Cinch and Go Flowers, Spellbinders Flourished Frame, May Arts Silk Ribbon, Recollections Pearls

Hard to believe the weekend is almost over.  Next week is bound to be glorious!